Why we are Expanding Onitsha GRA and other Roads – Obi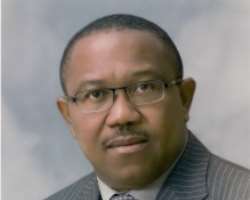 Gov. Peter Obi said that the volume of infrastructure being put in place at the Onitsha GRA, which included the completed 1st and 2nd giant Business Parks, mini stadium, Governors' lodge, Judges' Quarters as well as the on-going Onitsha Hotel and Convention Centre and Shoprite had made it necessary that the roads within the area should be dualised to prepare them adequately for the traffic they are going to carry. The Governor said this on Thursday while flagging off the dualisation of the ABC road leading to the Hotel and Shoprite that are under construction
.
The Governor said that his Government's approach to the provision of infrastructure was always dictated by need rather than other extraneous considerations. In his words: "We provide infrastructure whenever there is need and not due to other considerations. In the past, some people have built roads that are not strategic as some of them even terminated in streams, but today, for any road we are constructing, I will show you the reason why we are doing so. We are flagging off the dualisation of the ABC Road because the Hotel and shopping mall will carry heavy traffics. Likewise, we are building very wide roads at the Habour industrial Areas because such roads are situated for industrial areas."
In his own speech, the State Commissioner for Works, Arc Callistus Ilozumba assured the people of the State that the government had long planned all the projects being flagged-off in line with the Governor's belief in planning and that the money for those projects are available.
He said the dualisation of the road would cost 300 Million naira and that it would have street light, pedestrian walk ways and proper drainages.
The representative of IDR, the firm doing the Job, Mr. Saheed said that he would deliver on the road within the given time. He thanked the Governor for paying them promptly in all the work they do in the State.