Messi Could Be Jailed For Four Years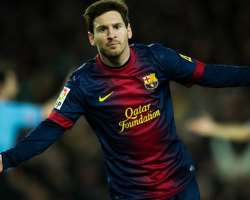 It's clear this won't be a simple case. A judge must accept the prosecutor's lawsuit before any charges could be brought.
This is bad press for the World Star player but centers on companies and endorsement deals. Tax advisers can be expected to contend that this is no more than tax planning, not unlike aggressive football play.
According to Forbes, Messi earns $41.3 million per year, making him the 10th highest-paid athlete in the world.
But not all of it is for actual play.
He is said to collect $21 million from endorsement deals, including Adidas. He makes about $20 million from Barcelona. Only David Beckham and Cristiano Ronaldo had higher earnings from soccer. In a statement released via his Facebook page, Messi said:
'We have just known through the media about the claim filed by the Spanish tax authorities. We are surprised about the news, because we have never committed any infringement. We have always fulfilled all our tax obligations, following the advice of our tax consultants who will take care of clarifying this situation.'
Messi's contract is understood to pay €11 million (£8.5 million) a year net. But the issue is beyond salary.
Barcelona's El Periodico newspaper says it involves commercial revenues from the Spanish authorities from 2006 through 2009 by directing the income to companies in tax havens. Much remains unclear, but if the reports are to be believed, the image and license deals are assigned to companies domiciled in tax havens.