Boko Haram: Father Turns In Killer-Son To JTF In Maiduguri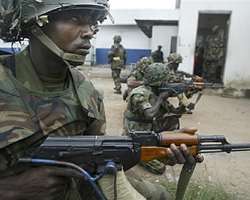 SAN FRANCISCO, June 14, (THEWILL) – In a rare show of zero-tolerance for wayward living, a 60-year-old business mogul in Maiduguri, the Borno State capital, on Friday, handed his son, who is said to be a Boko Haram member, to the military Joint Task Force (JTF).
The son, who had reportedly threatened to kill his disciplinarian father before leaving home a few days ago, was said to have returned home suddenly, begging his father to give him protection from the JTF operatives, who had been on his trail.
A family source disclosed that "After confessing all his crimes, including how he participated in killing of people and looting of banks to his father, the old man decided that it was against his conscience to keep a killer son in his home; so decided to turn him in."
According to the source, after listening to the confession of his son, the man simply walked up to the nearest JTF office to report the boy and when soldiers of the JTF arrived to arrest him, he tried to escape and was shot dead.
But the businessman was said not be moved by the killing of his son as he was reported to have said "Masha Allah" meaning "to God be the glory" in Hausa language.
The man was also said to have decided against taking up the ill-gotten wealth of his son stashed away near the family house.
According to an eyewitness, "Before he was handed over to the soldiers, the young man had revealed to his father and family members that he possessed two cars and had millions of Naira buried somewhere near the family home.
"But the no-nonsense father said he had no interest in his ill-gotten asset and had no intention of inheriting his assets, saying, according to Islamic injunctions, they are haram.'"