Tinubu Lied In London – Okupe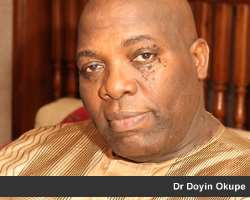 THE Presidency on Thursday accused former Lagos State governor and leader of Action Congress of Nigeria (ACN), Senator Bola Tinubu, of lying over his remarks at an event in London where he presented President Goodluck Jonathan as incapable of tackling the challenges confronting the country.
Addressing a news conference in Abuja on Thursday, Senior Special Assistant (SSA) to the President on Public Affairs, Dr. Doyin Okupe, noted that at a time Tinubu's new political party, the All Progressives Congress (APC) was battling unsuccessfully to produce a new set of leadership, Tinubu was in London telling lies about the Jonathan's administration.
Saying that government has noted 'several inconsistencies, political razzmatazz and utter falsehoods contained in the address,' Okupe said Tinubu's remarks were not only wide off the mark but betrayed the hypocrisy 'for which the national leader of ACN and his party have become very well known.'
He said that the ACN leader's claim that 'everyone claims to be democratic but not everyone is faithful to his or her word,' was 'a clear case of self-indictment,' arguing that 'any keen and discerning observer of Nigeria's democracy will attest that Senator Tinubu and his ACN are completely lacking in democratic temper.'
Okupe remarked that the ACN as a party was not only undemocratic but blatantly autocratic and makes no pretenses about it, saying 'it is clear that ACN leadership's understanding of democracy is tainted and skewed by his undemocratic mindset, which has seen him exert authoritarian control over the party. With such disposition, it is easy to understand his warped and defective reading of the democratic situation in Nigeria.'
According to the Presidential aide, that paper that Nigeria under the leadership of Jonathan was a dysfunctional democracy was not only the height of ignorance but equally of unbridled mischief.
He added: 'Tinubu must be talking of an imaginary Nigeria not the Nigeria we all know and live in. His submission on our democracy is nothing but wild conjecture, completely unrelated to reality.
'For the records, the Nigerian democracy is robust, vibrant and unattenuated. Unlike the ACN chieftain would have us believe, Nigerian democracy does not stand in any dark.