President Jonathan Didn't Order Sack Of Top Police Officers, Says Abati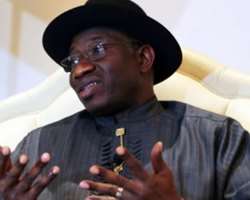 PRESIDENT GOODLUCK JONATHAN
SAN FRANCISCO, June 13, (THEWILL) – The Presidential Adviser on Media and Publicity, Dr. Reuben Abati, has described reports by sections of the media that President Goodluck Jonathan had ordered the sacking of top police officers as untrue, sensational and misleading.
In a statement issued on Thursday, Abati said the Presidency views the highly sensationalised reports as a deliberate attempt to cause anxiety and disaffection amongst the top hierarchy of the Police Force through the willful misrepresentation of President Jonathan's remarks at the swearing-in of the new Chairman and members of the Police Service Commission (PSC) on Wednesday.
According to Abati, "The swearing-in ceremony at which President spoke yesterday was directly covered by members of the State House Press Corps and as a significant number of them rightly reported. The thrust of the President's remarks was that the new Chairman and members of the Police Service Commission should strive to effectively discharge their statutory function of enhancing discipline and efficiency in the service by ensuring that performance, competence and merit are the primary criteria for career progression in the Police."
Abati said the full transcript and recording of the President's remarks at the occasion are available to all sections of the media and they clearly show that at no point in the course of his comments did the President "order" or "direct" the Police Service Commission to "sack" any police officer.
"President Jonathan was certainly not giving fresh orders or rewriting the rules when he said: "People who are promoted to Assistant Commissioner of Police and above must merit the rank. If you don't merit the rank, you should be retired from the service".
"As all police officers and their counterparts in the Armed Forces and security agencies know, the President's words were fully in line with existing rules and regulations guiding career progression in the services.
"The import of President Jonathan's comments was that the new Police Service Commission and other bodies charged with overseeing the career progression of officers and other personnel in the police and security agencies should work to achieve greater competence levels in the services by upholding extant regulations without fear or discrimination.
"Headlines such as "JONATHAN ORDERS SACK OF TOP POLICE OFFICERS" and "SACK CORRUPT POLICE, IMMIGRATION OFFICERS, JONATHAN ORDERS PSC, CG" are a complete distortion, falsification and perversion of the President's remarks.
"The Jonathan Administration has granted access to all media organisations who wish to report on its activities and done everything possible to facilitate the performance of their duty of correctly informing the public in keeping with the spirit of democratic governance.
"In return, the Presidency expects a much higher standard of professionalism and accuracy than that being exhibited by sections of the media.
"Those guilty of deliberately distorting or twisting the President's words to promote sectional agenda and fan the embers of discord in the polity should desist from doing so," the statement said.