UN envoy honours the Ghanaian contingent with UN Peacekeeping Medals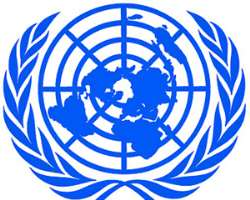 UN envoy honours the Ghanaian contingent with UN Peacekeeping Medals
MONROVIA, Liberia, June 13, 2013/African Press Organization (APO)/ -- The Special Representative of the Secretary-General, Karin Landgren, awarded United Nations Peacekeeping Medals to more than 700 Ghanaian peacekeepers for their outstanding service as part of the United Nations Mission in Liberia (UNMIL).

"Since deploying its first troops to UNMIL in 2003, Ghana has remained a strong, reliable and dedicated partner in Liberia's peace, stability and development," the UN envoy said at a ceremony in Liberia's frontier city of Ganta, to honour the Ghanaian soldiers for their dedicated service.

In addition to providing a large number of troops to UNMIL, Ghana has also made available highly qualified military and police officers, who have served the Mission in senior positions, including deputy force commanders, chiefs of staff forces and a police commissioner, Ms Landgren noted.

Turning to the Ghanaian peacekeepers, who for the past five months have been serving in various locations in Lofa, Bong and Nimba counties, Ms. Landgren praised them for pursuing and upholding the noble values and traditions of peacekeeping. She commended the joint patrols and operations the Ghanaian soldiers had undertaken with their Liberian counterparts to remote and inaccessible parts of the country, especially along the borders with Côte d'Ivoire, Guinea and Sierra Leone to monitor cross-border activities and reassure the local population.

"You and your national partners have played an essential role in protecting civilians along the fragile border with Côte d'Ivoire through Operation MAYO, which brings you together with UNOCI forces and Ivorian officials for information sharing and joint patrols," the SRSG told the Ghanaian peacekeepers.

Ms. Landgren, who is also the Coordinator of UN Operations in Liberia, noted that in a few months Liberia and UNMIL would celebrate a decade of peace. At the same time, she emphasized that "there is still more to be done in support of Liberia's peace, security and development."

"Liberia's security remains UNMIL's top priority as we progress with the gradual and carefully planned transition of our security responsibilities to the Liberian authorities," she added.

Among the dignitaries present at the ceremony were: DSRSG for Rule of Law, Mr. Tamrat Samuel; Ambassador of Ghana to Liberia, Kodjo Asimeng Wadee; UNMIL Force Commander, Major-General Leonard Ngondi; Director of Mission Support, Hubert Price; Armed Forces of Liberia Chief of Staff, Major-General Suraj Abdurrahman; Nimba County Superintendent, Christiana Dagadu; and other senior UNMIL military and civilian officers.