UNIUYO Shut As Protesting Students Want Vice Chancellor Sacked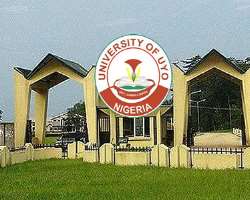 SAN FRANCISCO, June 12, (THEWILL) – The University of Uyo (UNIUYO) in Akwa Ibom State closed down indefinitely.
A statement issued by the registrar of the university, Professor Edak Umondak, which was broadcast on Akwa Ibom Broadcasting Corporation , said the School had been shut indefinitely as the students were asked to vacate the school campus with immediate effect.
Trouble started in the university following the hike of some fees which the students described as arbitrary as they called for the sack of their Vice Chancellor, Professor Comfort Ekpo.
Protesting round the campus to drive home their point, the furious students described the N2,000 fee being charged for GST courses registration as well as the introduction of N200 as transport fare to the main campus, as outrageous.
Alleging administrative lapses, coupled with the total darkness the school had been thrown in for some time, as well as the poor sanitation and lack of water in the university, the students said the Vice Chancellor was totally incompetent to run the institution and should be sacked.
The students were however restricted from taking their protest out of the campus as heavily armed policemen shut the university gate against them.
A student of the institution, who gave her name as Emem Etim, said the protest was triggered off by the decision of the school authority to introduce N2,000 for GST and N200 for transport fare without adequate information to the students.
"The matter is that we do not want this woman 'Comfort Ekpo' in this school. As long as this woman continues to administer this institution, the students and other stakeholders are not going to find things easy. If you check throughout the country, UNIUYO, is one of the most expensive institution in the country. We can't continue to keep silence in fear that the police will kill us when we demand our right," she said.
This came as another student, Stephen Chukwuemeka, blamed the protest on the arbitrary hike in fees by the school authority without considering the plights of the student, saying the development may aggravate the problem of cultism and kidnapping of lecturers in the university.
No official of the university was however available for comments on the students' protest as the Director of Information of the school, Mr. Godfrey Essien, said he could not confirm the development as he was currently on sick leave. Also, the Dean, Students' Affairs, Prof. Eno Ibanga, could not be reached for comments.
The state Police Public Relations Officer, Akwa Ibom Police Command, Mr. Etim Dickson, also denied knowledge of the protest. "I do not know. I can only tell you what I know. The A Division is yet to be informed of any riot in the university," he said.