OKWUTE BUILDING LONGEST BRIDGE 100 METERS LONG AT OZUBULU/ATANI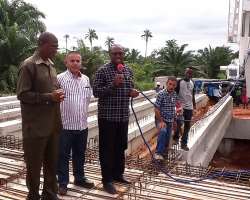 Amidst jubilation, commendation and ecstatic merriment, the local residents along the on-going Ozubulu- Atani road welcome Gov. Peter Obi as he hoisted the beam of the longest ( close to 100 meters) among the three bridges and over 50 Culverts along the road, costing the State Government over 10 Billion Naira.
Hoisting the beam yesterday, the Governor said that he came personally to perform the function to reassure the people of his commitment to the project, which, according to him, when completed would open up the entire area to the rest of the state. Obi said that the idea of engaging two contractors on the road, working from opposite directions was to complete the road within the life spam of his Government.
Earlier the Governor had taken some South-African investors round some land at Habour industrial area of Onitsha. He said he was persuaded to do so following reports that some prospective investors complained of difficulty in securing land and his resolve that the matter should not be an issue at all. "It is an embarrassment that an investor willing to build permeant facility in our State, employ our people and contribute to the expansion of our industrial base should encounter problem in securing land. To demonstrate how badly we need such investment, I am ready to personally make sure that such things do not constitute obstacles at all", Obi submitted.
The Governor also visited some on going work in parts of the State, namely, Iyiowa-Odekpe road and Obodoukwu Road, Okpoko. Obi expressed satisfaction at the level of work, especially the giant culverts being built along some portions of the road to prevent the problem of flood as predicted that will happen this year.
Obi was accompanied by his Commissioner for Works, Arc Callistus Ilozumba; Commissioner for Lands, Barr. Okoli Akilika and other relevant Government officials in whose Ministry the projects visited were domiciled.