APC: Jega Not Under Any Pressure, INEC Tells Nigerian Daily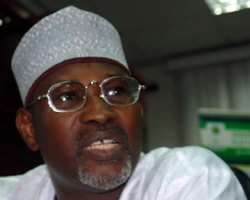 INEC CHAIRMAN, PROFESSOR ATTAHIRU JEGA
SAN FRANCISCO, June 11, (THEWILL) – The Independent National Electoral Commission (INEC), Tuesday, declared that neither it nor its Chairman, Professor Attahiru Jega, was under pressure from any quarters in the discharge of their constitutional duties – including registration of political parties.
Reacting to the lead story published by Leadership Newspaper on Tuesday insinuating that Jega was under pressure from "high quarters" not to register the opposition alliance, All Progressive Congress (APC), INEC, in a letter signed by the Chief Press Secretary to INEC Chairman, Kayode Idowu, and addressed to the Editor of the paper, copy of which was sent to THEWILL, said there was no iota of truth in the report.
"With due respect, your story is entirely fictitious and betrays wholesale misunderstanding of how the Electoral Commission under the present leadership works. The Chairman did not confide in anyone that he is under any kind of pressure, as your story reports. He does not need to, because he will not allow himself to be pressured in the first place.
"Both the 1999 Constitution of the Federal Republic (As Amended) and the Electoral Act 2010 (As Amended) prescribe specific conditions that any group seeking registration as a new political party or intending to evolve from a merger process must fulfil. INEC is a regulatory body whose duty is to make sure that applications for registration meet those conditions as applicable.
"As stated in your story, applications to INEC for registration as political parties are a purely routine operational matter, and they are treated as such in the light of guiding statutory provisions.
"Be assured, sir, that the present leadership of the Commission will uncompromisingly protect its integrity and the statutory rules of engagement. It will not be pressured by anyone to register, deregister or not register any party; and neither will it be stampeded or blackmailed into ignoring statutory provisions in regard of any application. The Commission, it must be restated, will do only what is right and lawful at all times, " the INEC letter said.