U.S. Government Weighs Security Damage From NSA Disclosures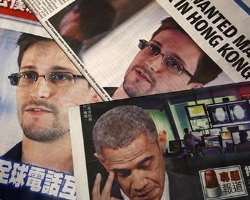 The Obama administration has launched an internal review to assess damage to U.S. national security from last week's leak of top-secret details of National Security Agency surveillance programs, a senior U.S. intelligence official said.
The review is separate from an initial criminal investigation into the leak opened by the Justice Department, the official told Reuters.
The administration's review will examine the extent of damage to national security programs from the disclosures by Edward Snowden of details of NSA's collection of phone call and email data, the official said.
It will be coordinated by the National Counterintelligence Executive (NCIX), a branch of the Director of National Intelligence's office, the official said.
Snowden, who had been working at the NSA as an employee of contractor Booz Allen Hamilton, went public in a video released on Sunday by Britain's Guardian newspaper.
In the interview, he described being disturbed by the NSA's broad monitoring of phone call and Internet data from large companies such as Google and Facebook.
The company said on Tuesday that it had terminated Snowden's employment on Monday for violations of its code of ethics and policies. It said he had been an employee for less than three months and had a salary of $122,000.
Snowden's revelations have prompted a broad national debate about the balance of American's privacy rights and national security measures, especially as they have developed since the September 11, 2001, attacks in the United States.
A team of national security, law enforcement and intelligence officials was scheduled to brief House of Representatives members later on Tuesday about the NSA's surveillance programs. The Senate will be briefed on Thursday.
BOEHNER SAYS SNOWDEN "A TRAITOR"
House Speaker John Boehner defended the NSA programs and their congressional oversight, saying he had been briefed on the programs and that Americans were not "snooped on" unless they communicated with a terrorist in another country.
"He's a traitor," Boehner said of Snowden in an interview with ABC News. "The disclosure of this information puts Americans at risk, it shows our adversaries what our capabilities are, and it's a giant violation of the law."
Many other lawmakers, both Democrats and Republicans, have also called for swift punishment.
But Senator Rand Paul, a Republican popular with the Tea Party movement that campaigns against intrusive government, said he was reserving judgment on Snowden. He said such civil disobedience happened when people felt like they had no other options.
"I think most Americans don't want this surveillance," Paul said on CBS' "This Morning" program.
REUTERS