Okonjo-Iweala Mocks Critics Of Nigeria Economy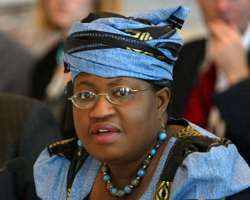 Finance Minister Ngozi Okonjo-Iweala held up a sponge cake representing the Gross Domestic Product to an audience of amused officials on Monday, as she sought to rebuff critics who say
Nigeria's strong economic growth has failed to lift millions out of poverty.
Likening Nigeria to a household, she urged the country to focus on the government's plan to become one of the world's top 20 economies by 2020, which she said would be crucial to solving its other problems like high unemployment and poverty. It would mean doubling the current growth rate to 13 percent, she said.
'Having this cake does not mean that every problem in your household is solved,' she said, holding up a sponge with figurines of a family on it, at a televised conference.
'But you have one wife and three children and … if you have only this cake you're going to be suffering. You want this cake to grow,' she added, swapping the sponge for a much bigger one, prompting a wave of laughter.
Reuters says foreign bond and equity investors are taking a growing interest in Africa's second biggest economy, and President Goodluck Jonathan's decision to bring Okonjo-Iweala back to Nigeria from her World Bank job in 2011 was well received.
But she has had a mixed reception at home, with some politicians complaining she is too aloof and technocratic.