North Still Divided On Vice Presidential Nominee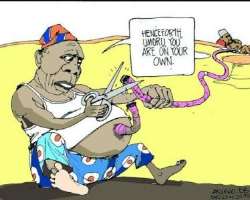 San Francisco Feb 21, (THEWILL) – The battle for who will become vice president under what some pundits have called the beginning of a long Dr. Jonathan Goodluck led presidency has continued to create a wide divide amongst PDP's northern politicians.
THEWILL checks gathered at the weekend that the party's northern power blocks are torn between picking a candidate from the younger generation or nominating a candidate from the older generation.
Dr. Jonathan Goodluck's recent ascension to the presidency in an acting capacity due to President Umaru Yar'Adua's illness and long absence from office has set the stage for a dirty fight over who would become his duty. If the PDP power rotation between northern and southern holds, the northern vice presidential candidate would most likely become PDP's flag bearer in the presidential election, which the ruling party is pushing to hold in November.
But if the rotation deal were jettisoned then Dr. Goodluck Jonathan would most likely become the party's candidate if he demonstrates exceptional leadership between now and the party's primaries. He would also have the liberty to choose his deputy possibly from names currently being touted as possible candidates for the VP slot. They are: Nasir El-Rufai, Secretary to the Government of the Federation, Alhaji Yayale Ahmed; General Aliyu Gasau; Mallam Nuhu Ribadu; Katsina State Governor Ibrahim Shetima; Kwara State Governor Bukola Saraki; FCT Minister Adamu Aliero; and Alhaji Sule Lamido amongst others.
As the delegation of the executive council of the federation begin their mission to ascertain the true state of President Yar'Adua's health in Jeddah, the next few days could become crucial for the PDP's major power blocks.
|
Article source