Femi Ogedengbe Lives Large In America, Bags Award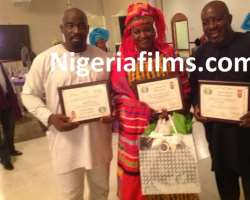 Those who know the industry very well, the name Femi Ogedengbe cannot be thrown aside like a trash. Many attribute him to be the one who brought Mercy Johnson into Nollywood. Huge and talented, the top movie director is respected, though he has had issues with the media.
Gist reaching Nollywoodgists.com is that the Edo State-born movie maker has been living big in America, where he went for an awards ceremony. Femi was said to have been awarded by his Afemai-people in Uncle Sam's country.
Gossips told us that the lanky Nollywood icon didn't fail to show the real Edo inside of him as he ably represented the region well in America. Hmm, 'come and see America wonder' as it we used to sing it back then.