Wall St. Little Changed After Credit Outlook Revised Up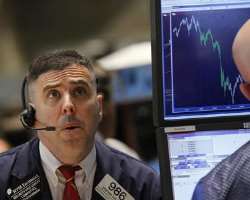 Stocks were little changed on Monday after rating agency Standard & Poor's raised its credit outlook for the United States, while investors continued to gauge if and when the Federal Reserve might slow its stimulus efforts.
McDonald's Corp (MCD.N) was the biggest gainer on the blue chip Dow after it said sales at its established restaurants around the world rose in May, sending its shares up 1.5 percent at $99.71.
S&P raised its U.S. sovereign credit outlook to "stable" from "negative", and put the likelihood of a near-term downgrade of the rating at "less than one in three."
The agency had downgraded the United States to "AA+" from the top-rated "AAA" in the summer of 2011.
"It's bringing back into discussion what the Fed will do, whether they'll begin to drain liquidity," said Dan Veru, chief investment officer at Palisade Capital Management in Fort Lee, New Jersey.
The debate over the Fed's next move could put a cap on gains in the stock market in the short term after the strong rally this year so far, said Veru.
"If stocks stay put for a while, that would be a pretty good outcome and set the base for another upward move later in the year," he said.
The Dow Jones industrial average .DJI edged down 14.21 points, or 0.09 percent, at 15,233.91. The Standard & Poor's 500 Index .SPX was off 1.34 points, or 0.08 percent, to 1,642.04. The Nasdaq Composite Index .IXIC added 2.23 points, or 0.06 percent, to 3,471.44.
While last week's employment report eased investor jitters that the Federal Reserve could cool the pace of its bond buying in the very near term, some investors are preparing for the Fed to reduce its quantitative easing by the end of the year.
A senior Fed official said on Monday that low inflation means the central bank can stick to aggressive bond buying if it decides it is warranted.
The Fed's loose monetary policy has played a significant role in the rally this year, which has pushed the S&P 500 up over 15 percent for 2013 so far. The prospect of the Fed pulling out has raised questions over whether equities will be able to stand on their own.
Apple (AAPL.O) CEO Tim Cook takes the stage at the company's annual developers' conference once more, this time to reveal what is expected to be a more modern-looking mobile operating system. Its shares were up 1.2 percent at $447.30.
Shares of Booz Allen (BAH.N) fell after an ex-CIA employee working as a contractor at the U.S. National Security Agency said he was the source who leaked details of a top secret U.S. surveillance program. Edward Snowden said he had been working at the NSA as an employee of contractor Booz Allen, whose shares were down 3.7 percent at $17.34.
AstraZeneca (AZN.L) is to buy U.S. respiratory drug specialist Pearl Therapeutics for up to $1.15 billion as Britain's second biggest drugmaker steps up a drive to rebuild its product pipeline via deal-making.
REUTERS