SPAN Set To Hold First Graduation Performance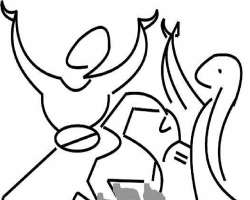 All is set for the first ever graduation ceremony of the Society for the Performing Arts in Nigeria, SPAN, a non-governmental organization aimed at providing world-class standard for performing arts education in Nigeria. The event which promises to be an exciting and exhilarating experience is billed to take place at the Eko Hotels & Suites on the 14th of June, 2013 in Lagos.
The graduation event will showcase outstanding and talented students who completed the two years rigorous training session at the Academy of Jazz & contemporary Music and Academy of Dance. SPAN provides a unique experience for both formal and informal classes in professional theatre, music and dance which seeks to provide the much-needed opportunity for talented and gifted persons through the unifying arts. The high point of the evening will be the launch of a Special Health Fund for students to further aid the growth of artistic experience, sense of humanity and social responsibility.
During an interactive session, the founder of SPAN, Mrs Sarah Boulos, said 'the vision behind the establishment of the centre is to create a hub for creativity, where the richness and diversity of Nigerian culture and tradition can be nurtured, preserved and showcased for all to see'. It is therefore worthy to note that in achieving this feat and dream, the mindset of people will have to be challenged, renewed and empowered to serve the nation which also affects the environment while promising a brighter future for generations to come.
Some top patrons and sponsors behind the 2013 graduation ceremony include Indomie, SCOA, 7up Bottling Company, Cool Fm, Mountain Dew, I.T.B Nigeria Limited, Tropic Ice, Audio Visual First (AVF), GON, Chellarams, Aleeco Nader, and Netcom among others. SPAN offers different classes of training which ranges from Jazz to Ballet, Tap, Hip Hop, Creative Combo, Drama, Contemporary African, Fitness, Naija Craze, Salsa and Latin Ballroom dance for beginners, intermediate and professionals.
The Society for the Performing Arts in Nigeria (SPAN) is a registered non-governmental organization founded in 2004 with the aim of unifying and advancing the performing arts in the country, offering free community services in the arts to other foundations and schools, with the ultimate hope of presenting a life changing message that will help families, children and youths re-channel their thinking and develop positive skills for later life.