ECA Executive Secretary to receive recognition for visionary, exemplary leadership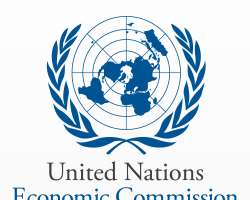 ECA Executive Secretary to receive recognition for visionary, exemplary leadership
ADDIS ABABA, Ethiopia, June 7, 2013/African Press Organization (APO)/ -- The Fascinating Africans Committed to Excellence (F.A.C.E.) list Awards has nominated Mr. Carlos Lopes, Executive Secretary, Economic Commission for Africa for his visionary and exemplary leadership and for playing an integral role in Africa's development and progress over the last decade.
F.A.C.E List Awards was established by Face2face Africa in 2011 to acknowledge, celebrate, and honor the outstanding achievements of Africans and friends of Africa who are contributing towards a more dynamic and advanced global community.
"I am deeply honored to have been recognized by an institution working to re-brand Africa's image on the global stage and especially for my role in Africa's development over several years," said Mr. Lopes.
According to the awards organizers, the future of Africa is directly linked to the endless efforts of individuals who commit themselves to being key players in the realization of Africa's potential.
"These trendsetters, trailblazers, and role models will stop at nothing to be the flag bearers of Africa. Serving as our icons, they are the educators, freedom fighters, leaders, executives, athletes, philanthropists, artists and entertainers who are at the forefront of the New African Image."
The F.A.C.E. List Awards seeks to magnify the success stories and acknowledge the contribution and impact of such individuals.
Fellow honorees include Peace Anyiam-Osigwe, a trendsetter in the African Film industry; Aziz Gueye Adetimirin, founder, president and publisher of the Network Journal Communication Inc; Jackie Appiah a celebrated African actress; Korto Momolu one of Africa's leading international fashion designers; and George Ntim, the only African to climb up the difficult ladder to become the Director of VIP Guest Relations and Community Services at the Marriot Marquis Hotel in NYC.
The awards ceremony will take place on June 15th at the Times Centre, New York City. This year's beneficiary is Raising Hope, an organization aimed at defending the rights of orphans across Africa.