Nigeria Will Not Disintegrate - Kaigama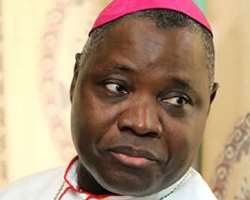 ARCH BISHOP IGNATIUS KAIGAMA, PRESIDENT, CATHOLIC BISHOPS CONFERENCE OF NIGERIAN (CBCN)
... Tasks Politicians On dividend of democracy

The President of the Catholic Bishops Conference of Nigerian (CBCN), Arch Bishop Ignatius Kaigama has assured that despite the recent security and socio-economic challenges facing the nation, Nigeria will remain one indivisible country.

Kaigama while addressing the Catholic Legislators from the National Assembly at a two days prayers session organized to celebrate the second year of the 7th Senate at the St. Mulumba Catholic Chaplaincy, Apo, Abuja Thursday, said those in the position of authority need goodwill and fear of God if the nation will progress in right direction.

He advised politicians to be patriotic and practice politics of holiness in the task of nation building.

Arch Bishop Kaigama in the homily further said Nigeria as a multi cultural and traditional entity is clouded with a series of challenges ranging from insecurity, corruption and socio-economic imbalances, "the result of what we are experiencing as a country presently is lack of love for the country."

"We need goodwill to be our brothers keeper. We need an attitudinal change to alleviate the pains and suffering of our fellow countrymen. The political environment is yet to display the sanctity of politics. Our politics is dominated with hatred and bloodthirsty individuals.

"The monster of corruption has become so resilience to the EFCC, ICPC and if we fail to rise to the occasion as quick as we can its impact on us will be overbearing," the Arch Bishop said.

Kaigama commended the National Assembly for their roles in stabilizing the politics and the collaborative efforts at ensuring a better Nigeria.