VICTOR UMEH, UBAH TEAM UP WITH NWAOBOSI TO RUBBISH OBI, BIANCA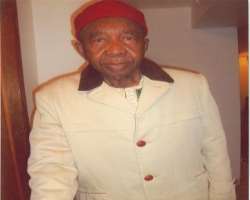 In few days time, Sun Newspaper will publish an interview that our source in the Sun Newspaper described as "explosive."
The interview, according to our usually reliable source, a journalist that works with the Sun newspaper, was conducted by the Sun correspondent with the son of Col. Emmanuel Nwaobosi, the Canadian trained Emmanuel Ike Nwaobosi.
Col Nwobosi, Ogene of Obosi, who was one of the 5 majors that staged the first coup in 1966, was the Chief of Staff to Dim Chukwuemeka Odumegwu Ojukwu until they parted ways.
Our sources reveal that Col Nwaobosi is still till today not happy with the manner he was relieved of his appointment, but being very close to Ezeigbo, he decided to keep quiet. However, due to a sickness he is suffering from, which need urgent medical attention outside the shores of this country, his son, Canadian trained, has met many people to sponsor the father, but the result so far is not encouraging.
Victor Umeh, it was learnt, hearing about the plight of the man hatched a plan with Ifeanyi Ubah to use him as a political tool in exchange for financial support. Thus Victor Umeh paid the old Colonel a visit and after which he took him to Ifeanyi Ubah, who promised to help him provided he would talk to the press and demonise Gov. Obi and Bianca through interview.
All this while Victor is asking for Peace and reconciliation in APGA,makes one wonder what kind of peace he had in mind.
Reasoning that it is better to stray from the path of rectitude a bit and stay alive, the Old, cunning Colonel decided to use his son for the interview. That was how Victor Umeh arranged a sun reporter to meet with him.
Our sources revealed that the interview took place for two days since the young man was given the freedom to continually review what he has said, add more things and remove some.
The interview which is already ready for publication is being delayed by what Sun newspaper thought as its libelous contents. Thus they have given it to their legal Adviser to go through.