Nyako Commends Soldiers On Conduct In Adamawa's State Of Emergency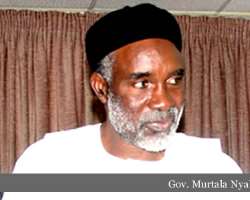 The Adamawa State Governor, Murtala Nyako, over the weekend in Yola commended the conduct of Nigeria soldiers operating in the state.
In a statement signed by the Director of Defence Information, Chris Olukolade, Mr. Nyako, while receiving the Defence Headquarters Operations Assessment Team, said even though Adamawa State did not expect the declaration of state of emergency, he appreciates the fact that there has not been any report of human rights abuses in the state by any soldier; and the residents have also shown some discipline overtime.
'The children are more disciplined and the soldiers well-behaved. The youths are beginning to see the need for togetherness and the advantages of it,' Mr. Nyako was quoted to have said.
The Adamawa Governor also said that the state government has instituted a welfare scheme for petty traders and others who used to operate between 6 p.m. to 10 p.m.
While recommending that the state's model of peaceful co-existence between the military and residents be studied, Mr. Nyako admonished other states to take a cue from Adamawa State in ensuring security.
The Defence Headquarters team thanked the governor for his support for the security agencies and sensitisation of residents to cooperate with the military in restoring peace and security in the state.