Obama Administration Defends Phone Record Collection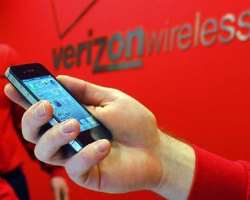 The Obama administration on Thursday acknowledged that it is collecting a massive amount of telephone records from at least one carrier, reopening the debate over privacy even as it defended the practice as necessary to protect Americans against attack.
The admission comes after the Guardian newspaper published a secret court order related to the records of millions of Verizon Communications customers on its website on Wednesday.
A senior administration official did not specifically confirm the report, but noted the published court order pertains only to data such as a telephone number or the length of a call, and not the subscribers' identities or the content of the telephone calls.
The order requires the government to turn over so-called "metadata" such as a list of numbers that called other U.S. or international numbers as well as other transactional information on the time and location of calls.
Such information is "a critical tool in protecting the nation from terrorist threats to the United States," the official said, speaking on the condition of not being named.
"It allows counter-terrorism personnel to discover whether known or suspected terrorists have been in contact with other persons who may be engaged in terrorist activities, particularly people located inside the United States," the official added.
The revelation raises fresh concerns about President Barack Obama's handling of privacy and free speech issues. His administration is already under fire for searching Associated Press journalists' calling records and the emails of a Fox television reporter as part of its inquiries into leaked government information.
Verizon has declined to comment. It remains unclear clear whether the practice extends to other carriers.
AT&T Inc had no comment. Representatives for other major carriers, including Sprint Nextel Corp and T-Mobile, could not be immediately reached or had no immediate comment.
BOSTON BOMBING
The three-month court order, dated April 25 and published by the Guardian on Wednesday, directs Verizon's Business Network Services Inc and Verizon Business Services units to hand over daily electronic data until July 19.
It was issued one week after U.S. law enforcement officials tracked down the two brothers suspected of carrying out the deadly Boston Marathon bombing. Investigators in that case had been looking into calls made from their phones and had been searching for one brother's laptop.
The order expressly compels Verizon to turn over both international calling records and domestic records, and refers to mobile and landline numbers, according to the Guardian's copy, which was labeled "top secret" and issued by the U.S. Foreign Intelligence Surveillance Court.
The four-page document does not lay out why the order was given or whether it was linked to any specific investigation.
Thursday's admission highlights U.S. intelligence officials' ongoing and controversial campaign of domestic surveillance launched under President George W. Bush's administration in the wake of the September 11, 2001 attack.
The 2001 U.S. Patriot Act allows the FBI to seek an order to obtain "any tangible thing," including business records, to gather intelligence.
The Obama administration official said that "all three branches of government are involved in reviewing and authorizing intelligence collection."
Still, some lawmakers have expressed growing concern with broad intelligence gathering methods.
REUTERS