Senate Cancels N4bn Budget For African First Ladies Peace Mission Building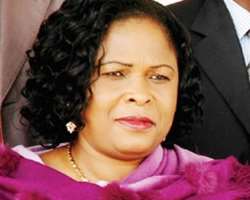 FIRST LADY, DAME PATIENCE JONATHAN
…Approves N259bn 2013 FCT Budget
ABUJA, June 05, (THEWILL) – The Senate has cancelled the contentious N4 billion budgetary allocation for the construction of African First Ladies Peace Mission Building, a pet project of First Lady, Dame Patience Jonathan.
Rather, the Senators on Wednesday voted that the N4 billion budget be diverted to, amongst others, the development of satellite towns in the Federal Capital Territory (FCT).
It could be recalled that the Senators in January had described as "scandalous" the N4 billion budget contained in the Federal Capital Territory (FCT) 2013 budget which was unanimously passed on Wednesday.
The Senate finally approved a N259,649,520,705 budget for the FCT for 2013, with a surplus of N48,716,036.
Leading debate on the FCT 2013 budget, Chairman, Senate Committee on FCT, Hon. Smart Adeyemi, told lawmakers at plenary that the cancellation of the N4 billion budget for the construction of the African First Ladies Peace Mission Building was due to litigation on the proposed plot of land housing the building.
"It is worthy of note that the proposed appropriation for the construction of the building for First Ladies Mission in Africa has been distributed to meet pressing needs in the area of engineering and Satellite towns
"Furthermore, due to litigation in respect of the proposed plot of land, the money cannot be accessed this year. Also, we cannot appropriate for a land that is not available," Adeyemi explained.
The FCT 2013 approved budget has N48,600,837,245 voted for personnel costs; N50,581,234,058 for overhead costs and the balance of N160,467, 499,402 is for capital projects for the service of the FCT commencing from January 1 and ending on December 31.
The sum of N7.5 billion had been earmarked for the construction of two city gates in the FCT.
A total sum of N150 million was voted for the renovation of Vice President, Namadi Sambo's Guest House in Asokoro, Abuja while N5 billion had been allocated to rehabilitate prostitutes and destitutes in the nation's capital city.
The Abuja Environmental Protection Board (AEPB) had earmarked N5.7 billion for procurement of equipment and other essentials, out of which N2.9 billion is for sweeping and sanitation in the city.