Umar: Boko Haram Didn't Send Me To Bomb THISDAY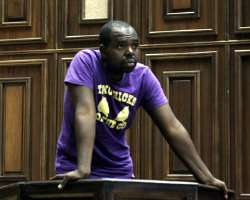 SUSPECT MUSTAPHA UMAR, ALLEGED THISDAY BOMBER IN COURT
SAN FRANCISCO, June 05, (THEWILL) – Suspected member of Boko Haram, Mustapha Umar, who is being tried for allegedly attempting to bomb the SOJ Plaza occupied by THISDAY, The Sun and The Moment, on Kontagora Road, Kaduna on April 26, 2012 has stated that the terrorist act was planned by him and his friends.
Umar made this confession in an interview conducted by the police shortly after he was arrested on April 26, 2012.
The recorded interview contained in a video compact disc (VCD) was tendered in court on Wednesday by prosecution lawyer, Simon Labaran.
The video was played in the open court on Wednesday.
Although conducted in Hausa, a court interpreter interpreted the interview in English.
In the interview, Umar said he coordinated the attacks on THISDAY Abuja office and the one in Kaduna and was not supported by Boko Haram.
He said that his intention was to wreck the organisation for publishing insulting materials about Prophet Mohammed.
Umar, 34 years, a Kanuri from Borno State and a widower with children, said he was not a member of Boko Haram.
He said the attacks for which he was being tried were coordinated by himself and his other friends trained under Sheikh Ja'afar M'adam in Maiduguri.
Umar, who said he was educated up to secondary school level, having attended the Government Day Secondary School, Maiduguri, stated that while the Kaduna bombing was done with his private Honda car he bought a year earlier, the bombing of the newspaper's office in Abuja was carried out by his friend - Alhaji - with his (Alhaji's) Sport Utility Vehicle.
Explaining his motivation for the attacks, Umar said : "What happened was that THISDAY newspaper insulted Prophet Mohammed. When a beauty contest was to be conducted, THISDAY newspaper insulted Prophet Mohammed. That was why I went there so as to take revenge.
"My intention was to eliminate them so that it will not exist again. You know, he who insults a prophet of God is not supposed to exist.
"There is the tradition of the prophet, which says that whoever insults the prophet of Allah shall be killed. For some years back, I have been praying to God to give me this opportunity to perpetrate this action and today, God has given me the chance.
"But the Boko Haram you are talking about, if I belong to them, I will not come to a newspaper house. What do they have? Are they not publishing newspaper? But they (THISDAY) insulted the Prophet of God in the newspaper they published and who insults a prophet also insults God.
"I promised myself that as long as I live, whoever insults a prophet of God, I will revenge."
When asked who made the explosives with which he had planned to bomb the building , he said he made it with his friends.
"Myself, Ibrahim and the one, who did the bomb blast (in Abuja) are together. We all agreed that whoever insulted the prophet of God, we will revenge," he said.
On whether he was disappointed that the explosives he took to the newspaper house did not explode immediately, he said he was helpless because it was God's wish.
"It is God that did not allow it to explode. I waited. It did not explode. Then, I came out of the car, trying to leave. I was blocked by the people, who started beating me and even broke my hand," Umar said.
The trial judge, Justice Adeniyi Ademola, admitted in evidence a translated transcription of the interview conducted in Hausa; and with the admission of the exhibit, the prosecution closed its case.
The defence led by Nureini Sulaiman had said he was going to make a no-case submission.
Justice Ademola adjourned to June 24 for adoption of all processes in respect of the defence's no-case submission.