Rejoinder to We heard Victor Umeh say he wished Governor Obi dead —Ben Obi and Muoneke •No, I didn't say so —Umeh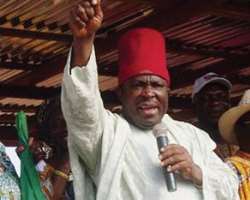 Thanks for asking my opinion on the allegation from Umeh.
I am suprise that suddenly Sir Victor Umeh saw me as " INTERNET HACKER WRITER" ,from the time he took over from CHEKWAS ,even though he is not in line for the succession,i was holding his back,defending him .He did not see me then as Hacker,but a good comrade.
He found a brother in me ,same way he found a mentor in Gov Obi who lifted him from grass to grace,then he switched over to any bidder that pays higher than Obi.His switch of Royalty from OBI to ROCHAS and to Ifeanyi Ubah is record breaking.
He knows how best to use and dump or destroy ,for instance,Emeka Ojukwu Jnr ,who is suppose to take over mantle from his ICONISTIC father,started going down the slope when he started having Umeh as a friend.Umeh advised him to send a letter of resignation to Gov Obi ,so that the Governor will break and bend and open the coffers to Umeh ,thinking that "Governor will not want to offend Ikemba Snr",well ,little did they know that Gov Obi is not a man that panics,he accepted the resignation in good faith,that started the falling and fumbling of EMEKA ,who is suppose to be a name to reckon with in Igbo politics.
As soon as Umeh destroyed the carrier of that young man ,he switched over to GOV ROCHAS OKOROCHA ,praising him to high heaven ,getting what he always wanted [MONEY] ,then Rochas become wiser to his antics and kicked him out.
He switched over to IFEANYI UBAH ,who we know is not a card carrying member of APGA.Now it seems Ifeanyi's fortune can no longer carry Umeh and he is switching over to CHIEF ARTHUR EZE .
In 2 years time , i am sure he will have so much aspersion to cast on his newly found Mugu,IFEANYI UBAH,after all Ifeanyi is not a card carrying member of APGA and a neophyte in politics.What he is carrying is bag of money to buy loyalty which Umeh is selling at a discount.
I defended him all the 8 years he held the position of APGA Chairman,from 2004 -2012, because he was a better alternative to CHEKWAS ,but when he wanted a THIRD TERM ,all his disciples and members of NATIONAL EXECUTIVE COMMITTEE abandoned him,switched over to the NEW VIBRANT leadership under MAXI OKWU.
APGA in 32 states of the nation lined loyally behind the leadership of Maxi ,i am sure Sir Victor will also see them as paid hackers too.Anybody that does,nt side with him must be a paid hacker.Little wonder in 8 years of leadership ,he called for NWC meeting 6 times.
Sir Victor Umeh said I was paid to do hatchet job,can you ask him ,under his Chairmanship ,Gov Obi wanted to conduct Local Government election and he Sir Victor Umeh sold FORMS to contestants,for the post of COUNCILLOR at 100,000 NAIRA,Chairmanship 1 million Naira.
More than 300 bought the Forms for Chairmanship and more than 900 bought the Forms for Councillor's.Where did he deposit the money ? since he did not refund the money to the candidates and he did not keep same in APGA purse.
He said i am a paid Hacker ,so please ask him ,does it mean he is owing me for all the DEFENCE and projection i gave him for 8 years ?,can i ask him to pay now ?.
The Problem of Sir Victor Umeh is that he believe his reign shall be eternity,he did not agree that every product has a life span or expiring date.Plus,he is trying hard to play the APC agenda ,which is destabilize APGA and they will give him SENATE TICKET under APC.If he deny this ,ask him what was his tenure of office ? and what is it he wants with APGA even when all his EXECUTIVES washed their hands off him ?
Before we loose sight of the fact ,is there anything that i reported that turned out to be lies ?I don,t think so and will never be so.
Mazi Odera

Greetings.
As you're no doubt aware, Chief Victor Umeh has denied your report on his alleged death wish for Governor Peter Obi. He also alleged that you are an Internet hacker based in China being used by Obi's Media Aide, Mr. Valentine Obienyem, to blackmail Obi's political enemies.
News Express would be glad to have your reaction, please.
We heard Victor Umeh say he wished Governor Obi dead —Ben Obi and Muoneke •No, I didn't say so —Umeh
By News Express, www.newsexpressngr.com, on 02/06/2013
Chief Umeh

The controversy surrounding Chief Victor Umeh's alleged wish for the death of his (Anambra) State Governor, Mr. Peter Obi, deepened yesterday afternoon as two witnesses stepped forward to confirm the News Express story even as Umeh swore that he never said he wished Obi had died in a plane crash.

News Express had yesterday morning reported sources present at a dinner in the Ukpo country home of Engr. Arthur Eze in Anambra State, South-East Nigeria, as saying that Umeh, factional Chairman of the All Progressives Grand Alliance (APGA), publicly said he regretted why the Arik Airlines plane carrying Governor Obi and more than 100 other passengers did not crash when it had problems on Tuesday.

Umeh, who has been locked in a bitter battle for the control of APGA, reportedly said that if the flight to Asaba, Delta State, which encountered inclement weather that made it to return to Lagos and finally managed to land after several hours, had crashed, Obi's death would have taught a lesson in the transcience of power.

Responding to the story, Umeh told News Express: "How could I have said that? I am a Christian Knight and will never wish anybody death! It is a blackmail handiwork of Mr. Obi's Media Assistant, Valentine Obienyem. Recall that a similar story was planted in the Internet two weeks ago that I was with Nigeria's First Lady in her bedroom where I sought her to help me win my matter at the Court of Appeal prompting the First Lady to issue a denial of the story. Obienyem uses someone that goes by the name Oderaigbo, an Internet hacker based in China, to blackmail Obi's perceived opponents for a fee. I consider the story childish. It shows how desperate Obi's camp is and can stop at nothing.

"I wish to say that I never said anything like that and wish Obi to live forever if possible. Obi's people should look for better ways of shoring up his plummeting public image."

However, two prominent Anambra citizens who were present at the dinner in Arthur Eze's house expressed regret at Umeh's denial, insisting that he did indeed publicly say he wished the plane crashed and Governor Obi died.

One of them, Chief Ben Obi, told News Express: "Umeh cannot deny that he said he wished Obi had died in the plane crash. It is true that he said it."

Chief Obi related how he arrived for the dinner when Umeh and others were already seated and eating. "I joined Umeh at the table where he was sitting, cracked a joke and took a piece of meat from his place and was eating. I was the first person to whom he said it. He told me that the near-plane crash was God's way of warning Peter Obi. Arthur Eze was very angry and asked why he should wish another person dead. All of us condemned him. I can swear with anything in this world that he said so."

Also speaking with News Express, Chief Cosmas Muoneke said he clearly heard Umeh wishing Governor Obi dead during the dinner. "May be he said it as a political statement but it is a very bad thing for anyone to say and we all condemned him," Muoneke said.
Disclaimer:

"The views/contents expressed in this article are the sole responsibility of the author(s) and do not necessarily reflect those of The Nigerian Voice. The Nigerian Voice will not be responsible or liable for any inaccurate or incorrect statements contained in this article."
Articles by Mazi Oderaigbo