Akpabio Commissions Security Villages, Hands Over To Local Govts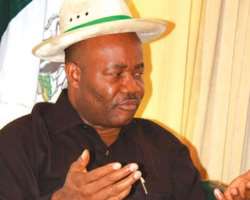 Security villages built and completed  by Governor Godswill Akpabio administration costing N5 billion in Uyo Senatorial District of Akwa Ibom have been inaugurated and handed over to the affected local government councils.
The villages are to be occupied by Chairmen, Vice Chairmen, Heads of Local Government Service,  Treasurers, Heads of State Security Service, Divisional Police Officers, Divisional Crime Officers and Leaders of legislature in the  the nine local government areas of the senatorial district.
Each security village which has 14 buildings, 250 KVA generator, 300 KVA transformer, integrated water treatment plant, lawn tennis court, 300 kilometres of tarred roads, street lights and perimeter fence, among others, occupies three hectares.
Governor Akpabio who inaugurated the project Monday at Mbak in Itu  Local Government Area for the nine local government areas said to whom much is given, much is expected.
"Majority of security residential villages have more than 403 buildings across the state. In Itu, the internal roads are about 300 kilometres and a 250 KVA generating set that houses the residence for the local government executive  officers. We had this concept in mind in 2007 for chairmen to reside in their local government areas to access duties in their councils.
With this project, the local government would work", Akpabio stated.
He commended Federal Road Maintenance Agency (FERMA) for living up to its responsibility by constructing roads in other states of the federation, and called on the agency  to extend similar gesture to Akwa Ibom.
The Governor, who advised local government chiefs to make proper use of the facilities in the villages, praised  Akwa Ibom House of Assembly for proper budgetary appropriation, saying "Without proper budgeting, the project would not have been executed".
Earlier,  the state Commissioner for Finance, Mr. Bassey Akpan, had told the Governor that Inter-ministerial Direct Labour Committee has completed 4,400 housing units, tarred 9,300 internal roads, installed 250 KVA generating sets and 300  KVA transformers, among others in the security villages in the 31 local government areas of the state.
Akpan gave kudos to the Governor for conceptualising  the project meant  to engender effective administration at the grassroot,  bring government nearer to  the people and ensure security of life  and property at the local government  level.