Kano Evacuates Almajiri, Beggars From The Streets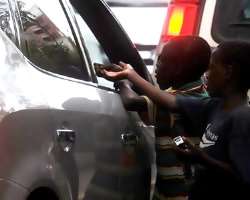 The days of Almajiris and streets beggars in the northern city of Kano are numbered with the renewed zeal by the state government to discourage street begging, particularly by Muslim youths who wander the streets with plates in their hands in the guise of Almajiri (missionaries).
Commander-General of the Hisbah Board, Malam Aminu Ibrahim Daurawa who defended government's action in this regard said the state government has concluded plans to evacuate Almajiri from the streets to various states and countries of their origin in its bid to discourage street begging that has constituted serious menace in the state.
"All necessary arrangements are on top gear to ban street begging in the state; and as such, we have commenced the evacuation of Almajiri from the streets in our effort to send them back to their respective states of origin," said Daurawa.
Daurawa also added that it was disheartening to discover that over 65 per cent of Almajiris in Kano were sent in from other neighbouring states and countries, while confirming that the government will soon send an Executive Bill to the State House of Assembly to enact a law that would ban all forms of street begging in the state.
Arrangements have been concluded by the state government to ban street begging and send away all child street beggars (Almajiris) that are not Kano indigenes to their states of origin," Daurawa added.
He, however, described as embarrassing, a situation whereby deported street beggars from abroad are taken straight to Malam Aminu Kano International Airport, " and their assumption is that all black street beggars are from Kano.