U.S., Chinese Manufacturing Shrink, Stoking Growth Fears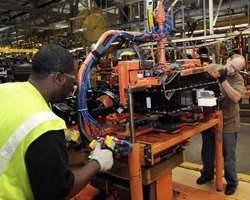 Manufacturers in the United States, China and Europe struggled last month as demand fell, suggesting an ailing world economy that still needs a steady diet of central bank support.
Output at U.S. factories declined in May for the first time in six months, the Institute for Supply Management reported, while China's massive manufacturing sector shrank for the first time in seven months, adding to concerns that the world's two largest economies were losing momentum in the second quarter.
Euro zone manufacturing contracted again in May, its 22nd straight month of decline, though the depth of the downturn eased for the first time in four months.
In the United States, the data bolstered the view that the economy was undergoing yet another spring swoon after expanding at a 2.4 percent rate in the first three months of the year.
That makes it unlikely the Federal Reserve would soon start to scale back the $85 billion in bonds it is buying each month. Fed Chairman Ben Bernanke said in May those purchases could be reduced at one of the central bank's "next few meetings."
"While the data for now constrains the thoughts of tapering (bond purchases), it is weak enough that it will also raise broader questions on global growth," said Alan Ruskin, global head of G10 FX strategy at Deutsche Bank in New York.
U.S. data last week showed consumer spending fell in April for the first time in almost a year and inflation retreated further from the Fed's 2 percent target.
San Francisco Fed President John Williams on Monday became the second central bank policymaker in recent days to warn that falling inflation would make it harder for the Fed to ease up on asset purchases.
"There are a lot of questions right now. Things are soft in Asia and Europe and the market is looking at higher yields and government spending cuts that are likely to hit the U.S.," said William Larkin, a portfolio manager at Cabot Money Management. "My guess is it's too early for the Fed to ease off."
A separate report from financial data firm Markit showed the U.S. factory sector continued to expand in May but at a sluggish pace, suggesting it would likely be a drag on second-quarter growth.
CHINA MANUFACTURING SLOWS
In China, the HSBC China PMI showed total new orders and new export orders fell in May, highlighting weakness in both domestic and overseas demand. The index slipped to 49.2 last month, its worst performance since October.
"The global economy remains weak... There's nothing in the system at the moment, certainly in China, that suggests there is a big pick-up in store just around the corner," said Victoria Clarke at Investec.
The HSBC PMI followed a similar government survey released on Saturday that showed a slight uptick but also pointed to falling orders from important export markets.
"We think China's economic growth will probably continue to slide," said Zhiwei Zhang, chief China economist at Nomura in Hong Kong.
New export orders also fell in Taiwan, a key producer in the global technology supply chain, while in South Korea, home to big brand names such as Samsung and Hyundai, new export orders growth eased to the weakest pace since January.
"A number of respondents blamed the reduction in demand on a general slowdown in global activity," HSBC said.
Growth in Indian factories was close to stalling, with the HSBC PMI slipping to its lowest reading since March 2009, although the index has stayed above the 50 mark separating expansion from contraction for over four years.
EUROPE CONTRACTS BUT NOT AS QUICKLY
Markit's euro zone PMI rose to 48.3 from April's 46.7. That still reflected contraction but was the highest reading since February of 2012.
Surveys from Germany, Europe's largest economy, and France showed activity contracted in May but at a slower pace than in the previous month. The story was similar in Spain and Italy.
With the euro zone enduring its longest recession, the European Central Bank has come under growing pressure to take more action to help bring a quicker end to the downturn.
ECB President Mario Draghi has said the central bank is ready to cut interest rates again if the bloc's economy deteriorates further, but a Reuters poll taken last week did not forecast any more policy easing.
In contrast to the weakness elsewhere, British manufacturing expanded at its fastest pace in more than a year, a possible sign of more broad-based recovery in the UK economy.
REUTERS