If APC denies me ticket, I' ll remain in politics, says Buhari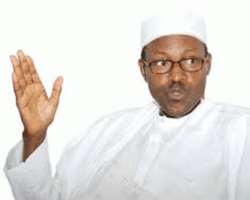 Former head of state and presidential candidate of the Congress for Progressive Change (CPC) in the 2011 presidential election, General Muhammadu Buhari Sunday said if the All Progressive Congress (APC) fails to give him the ticket for the 2015 Presidential election he would remain in politics, nonetheless.
He also stated that he would back the party and support anybody given the ticket.
According to him, 'If he is a member of my party I would support him because I would remain in politics and APC.'
Speaking on a live programme 'Guest of the Week' on Liberty Radio monitored in Kaduna, Buhari described the road to merger as quite rough saying, 'it is rough in the sense that the ruling party has enormous resources and its capacity for coercion.
'Personally, I realised these since 2007 that the only way the opposition at all levels  of representation from councillorship to representatives can counter  the People's Democratic Party is to come together to bring the dividend of democracy to their people.'
When asked if he trusts the Independent National Electoral Commission to conduct credible election in 2015, he said: 'We as APC want,   together with other parties and civil society groups, to make suggestions for amendment of Electoral Act 2010 for  2015 general elections.'
He frowned at the state of decay of the nation's infrastructure saying, 'You will really be shocked by how resources were not credibly utilised because the railway, airways, roads, waterways are quite inefficient.
'The solid infrastructure are virtually gone and then you ask what was the money used for?
'Look at the universities, polytechnics and infrastructure we built during the military regimes.
But in spite of the resources, sustaining their development became a mirage in Nigeria which the governments are responsible for.
'God has endowed Nigeria with abundant human and material resources but we have failed to organise ourselves.
Virtually from First Republic there was no leadership in Nigeria because, going by the way our national resources were being squandered ,  no country can survive it except Nigeria,' he said.