We Were Paid N5,000 To Burn Schools - Freed Boko Haram Kids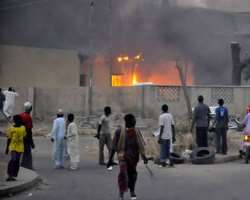 About 58 pardoned Boko Haram suspects were yesterday released by the military and handed over to Governors Kashim Shettima and Ibrahim Geidam of Borno and Yobe states.
Those granted reprieve, as part of the first batch of freed detainees under Federal Government's amnesty deal, included 23 women and 35 children.
But the release was emotional as one of the children admitted that they were being paid N5, 000 to set schools ablaze.
According to the fact-sheet obtained by our correspondent, 20 detainees, comprising six women and 14 children, were released in Borno State.
The 20 suspects, arrested between 2012 and 2013, were freed and handed over to Governor Kashim Shettima for rehabilitation and reintegration by the Joint Task Force (JTF), Operation Restore Order, in Maiduguri.
The document said: "The children are between the ages of 9 and 15 years. The 20 detainees were mostly arrested in Maiduguri, Bama in Borno and Damaturu in Yobe State.
"The six freed women include Hajjia Zainab Mohammed (40); Hajjia Karagama Mohammed (55); Hajjia Zari Mohammed (40); Aishatu Mohammed Aji (62); Hadiza Ahmad (40) and Yakaka Goni Habib (16).
"The 14 children include Abba Modu Aji (10); Mohammed Musa (12); Ibrahim Mohammed (15); Umar Bukar (1)5; Mustapha Umaru (14); Bashir Ali (12); Musa Grema (13); Abba Mohammed (14); Baba Alhaji (13); AbdulAziz Umar (14); Ari Masa'a (14); Bayi Mustapha (14); Mohammed Ibrahim (14) and Alhaji Goni (14).
In Yobe State, 17 women and 21 children were also released by the JTF to Governor Ibrahim Gaidam in Damaturu.
Responding to questions from journalists, most of the women freed in Borno State claimed innocence.
"One of them, Aishatu Mohammed Aji (62), said she was arrested because of her son's involvement.
Although she said her son was still at large, military sources said the woman was regularly keeping guns for her son after he carried out attacks.
"Another woman, Hajiya Zainab Mohammed, claimed she was a food vendor and was arrested after a raid in Bama town, some 40 kilometres away from Maiduguri.
A reliable source at the handing over ceremony in Maiduguri said: "There was drama at the council chambers venue of the handover when three children revealed that some sect members recruited them mostly to gather information, especially to bring report on troop movement and behaviour of soldiers at duty posts.
One of them said: "We were taken to Damaturu. We watched out for the soldiers at their units and reported back to them. We were reporting when soldiers were at ease or enjoying themselves and when they were off guard, and we were paid for doing that."
One of the teenagers also revealed that they were paid N5, 000 and provided with fuel in kegs to set schools ablaze in Maiduguri .
He said: "We were given a keg of petrol by our bosses to set some schools ablaze, which we did within Maiduguri, and we were paid N5, 000."
One of the children also revealed that he was usually sent to steal clothes from houses for use by insurgents.
"They, however, said after they were arrested and interrogated by the men of the JTF, they volunteered information that led to the arrest or killing in gun battle of their pay masters.
"The three boys also said they were in Almajiri schools. They, however, said they were willing to be enrolled into formal education to be combined with Islamic education, with a pledge to be of good behaviour.
The Commander, 21 Armoured Brigade, Maiduguri, Brig. Gen. Bamigboye, who did the handing over, said he was acting on behalf of the Chief of Defence Staff, Admiral Saad Ibrahim, following President Goodluck Jonathan's directive to the army.
He explained that the detainees were arrested in connection with their roles in the insurgency.
The Special Adviser on Media and Communication to the Governor of Borno State, Alhaji Isa Gusau, confirmed the release of the 58 detainees last night.
Gusau said: "Governor Shettima presented fabrics to the pardoned detainees to assist them. He noted that with the President's offer, they were like every innocent Nigerian so long as they remained of good behaviour.
He quoted the governor as saying: "We most sincerely thank Mr. President for his magnanimity for releasing our sisters and children. This marks a milestone in our quest for peace through a dialogue and to restore normalcy.
"We will do our part by ensuring that they are integrated into the larger society after rehabilitation to become better citizens.
"The Federal Government has shown commitment by releasing these women and children under detention. We would admit the women into our vocational training centres for rehabilitation.
"As for the children, we are going to hand them over to the Ministry of Women Affairs and social welfare. We will advertise for their parents to come and claim them after they might have signed a written undertaking to inculcate good behaviour and to enroll them in schools."
Gusau added: "The governor also said for each released child that is enrolled in school, their parents would get N10, 000 for 30 days of uninterrupted stay in school
. "He said it is a foreign model that he is borrowing as a campaign to boost education. The governor also urged the women to turn a new leaf and not walk back to the wrong alley. He commended the security agents for keeping the detainees hale and hearty.
"He assured that the state government wiould do everything to rehabilitate them to be better citizens, promising that the women wiould be trained at the various vocational training centres in the state to acquire skills, while the children would be sent to schools."
THE NATION