Obasanjo Tasks Nigerian Leaders On Social, Economic Development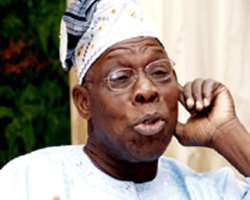 Former President Olusegun Obasanjo on Wednesday tasked political leaders to adopt practical measures to accelerate effective utilisation of human and natural resources for sustainable development in the country.
Mr. Obasanjo gave the challenge while speaking at the maiden Jigawa Economic and Investment Summit in Dutse.
The summit was organised by the state as part of the activities to mark the 2013 Democracy Day celebration. Its major significance was to encourage investment on agriculture, information and communication technology (ICT), solid minerals and small and medium scale enterprises (SMEs).
Mr. Obasanjo said that Nigeria was endowed with abundant natural and human resources, which could be transformed to the social and economic benefit of the people.
'Nigeria is a land of opportunities and it is blessed with all it takes to develop, it has been stagnant for so long, it is about time to change these opportunities to actuality.
'There is no reason why we should not do that, we must invest in education to save the larger population of the country or else our population will become a liability,' he said.
The former president said that for Nigeria to attain sustainable development, children must be trained, educated and be skilled in every sector to be self-reliant. He said it was necessary for the government at all levels to adopt proactive measures to translate the improvement recorded on the Gross Domestic Product (GDP) to the wellbeing of the people.
He explained that such improvement could be translated to provide employment opportunities, wealth creation and poverty reduction in the society. He said a conducive and friendly business environment was necessary to attract investment opportunities.
Mr. Obasanjo commended the state government for its developmental stride in education, describing it as vital tool for development.
In a speech, a member of British Parliament, Lord Boateng, said it was good for the African countries to address the problem of capacity building and poor policies to attract investment.
'The challenge is to build capacity and communicate a message to move sentiment to strategy and turn dreams into reality,'' Mr. Boateng said.
He said that for African states to attain sustainable development, they must invest in agriculture, education and infrastructure.