Mark: Nigeria's Challenges Not Insurmountable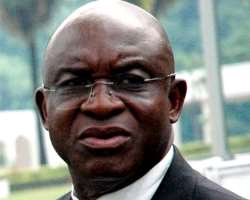 SENATE PRESIDENT DAVID MARK
...Says State of Emergency May End Soon
SAN FRANCISCO, May 29, (THEWILL) –President of the Senate, Senator David Mark, on Wednesday, declared that though the challenges facing the country are daunting , they are not insurmountable.
Mark, who made the declaration at a church service to mark the 2013 Democracy Day at St. Mulumba Catholic Chaplaincy, Apo, Abuja , said "All we need is a collective resolve to confront our challenges and find a lasting solution to them."
Explaining that the State of Emergency proclamation in some States of the Federation was a last resort to tame the lingering menace of insecurity and bring normalcy back to the land, Mark charged every Nigerian to be a good apostle of peace in order to facilitate delivery of the dividends of democracy.
According to the Senate President, the nation is currently passing through some difficulties especially in the areas of security and socio-economy challenges.
"We can collectively resolve to say enough is enough. All our efforts towards development would come to naught if the crisis continues.
"The state of emergency proclamation on three States was a last resort to curtail the unabating insurgency. And I know it is yielding positive result. Very soon, it will be over as our military formations are living up to the task, " he however said..
Mark expressed gratitude to Nigerians for their perseverance and cooperation in the propagation and sustenance of democracy, adding that democracy is a process everyone should uphold in order to benefit from it dividends.
"It was by choice and design that the nation chose democracy as best form of government. Democracy promotes rule of law, upholds human rights, freedom of speech and indeed participatory.
"Whichever faith or religion, I urge Nigerians to continue to pray for peace, unity and progress of the nation," he said.
The Senate President however assured of continued and responsive legislation that will cater for the yearnings and aspirations of all Nigerians.
"We shall continue to identify and prioritise key areas where legislations would be required for the rapid transformation of the economy and polity. We shall be patriotic, honest, fair and just in the discharge of our duties and be guided by the Constitution and fear of God," he stressed.
Earlier in the homely, Rev. Father Innocent Jooji called on religious leaders to do away with provocative statements that may generate crisis, saying Nigeria remain the only country of all Nigerians.
He charged the people to remain steadfast in prayers for the elected leaders to have political will to deliver dividends of democracy to the electorate just as he tasked political office holders to make the citizenry the focal point of their policies and programmes.