Obi's wife orders baby factories closed with 48 hours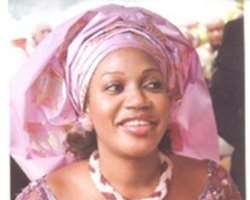 Children's Day celebration in Anambra
Baby factory: Anambra orders operators to leave town
---bans illegal homes, warns to deal with anyone in illicit baby
factory business
--------Four pupils collapse in Nnewi , Awka
Anambra state government yesterday ordered all motherless baby homes
that could be tagged 'baby factories' to pack and leave the state
within 48 hours or risk the consequences if exposed.
Wife of the Anambra state Governor Mrs Margaret Peter Obi who dropped
the hint at the 2013 Children May day at Alex Ekwueme Square Awka
warned all Motherless baby homes in Anambra state indulging in any
form of illegal adoption of babies and outright selling of babies in
any disguise to pack and leave the state without further delay.
Mrs Obi said she is sure there would be no such ''baby factories in
Anambra state now as already the Governor Mr Peter Obi had last year
when such raised its head mandated the ministry of Women Affairs and
Social Development to ensure that all homes in the state which are not
registered by closed while registered homes are monitored and
supervised.
She said the state government has ordered the ban of all illegal homes
that are now known as ''baby factories' adding that the state works
hand in glove with National Agency for The Prohibition of Traffic in
Persons and Other Related Matters, NAPTIP in all issues relating with
children.
'' Our state ministry of Women Affairs and social development is
working in partnership with National Agency for The Prohibition of
Traffic in Persons and Other Related Matters, NAPTIP because we as a
government condemned in strong terms any form of illegal baby adoption
or outright baby selling as rampant now.
''Baby factory is an injustice against children and against moral
values our society is known for. Our laws on baby fostering and
adoption is sacrosanct and must be complied by any body setting up a
Motherless baby home in the state. Once that is not done , the home is
illegal and we have ordered all illegal homes and operators to leave
the state with 48 hours .
''It is illegal and that is why our government has taken issues
relating to children serious including Education, mother and child
mortality and health care services .
Earlier, Secretary to the Anambra state Government (SSG) , Mr Osaeloka
Obaze who took the salute for over 3 hours on behalf of the state
Governor, Mr Peter Obi read the address of Mr President t Nigerian
children on behalf of Obi.
The Commissioner for Women Affairs and Social Development, Lady
Henrietta Agbata advocated for the protection of children from all
forms of abuse adding that child rights is all about child survival,
participation, protection and development . She urged all stakeholders
to see they prevent, protect and respond to violence, abuse and
exploitation wherever it occurs against children physically,
psychologically and socially.
Commissioner for Education , Dr Mrs Uju Okeke lauded the performance
of the children in calisthenics, match past and dances describing the
ingenuity exhibited as indications that the investments in Education
by the state government led by Governor Obi is not a waste.
Meanwhile, four pupils slumped at different locations in Anambra state
yesterday during the Children day sequel to exhaustion caused by high
temperature. Two including a pupil identified as Chidiogo Ilodiuba
from Nnamdi Azikiwe University Teaching hospital Nursery and Primary
school Nnewi while one person who could not be identified as slumped
in Awka.
The Transition Committee Chairman , Pat Ubajiaka was represented by
his deputy Lawrence Okeke while the traditional ruler of Nnewi , Igwe
Kenneth Orizu the 111 with the three Obi's in Nnewi were in
attendance.
Director Child Development, Emeka Ejide informed that the Children
Parliament led by speaker Right Hon Uchime Michael are one of the best
in the country and that they were in activities for almost a week
preparatory to the children's day celebration. The speaker in his
speech condemned abuses of children still going on in the state
despite the child rights act and appealed for implementation of the
law.