Governor Rotimi Amaechi: The Road to Perdition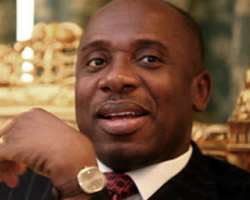 By George Kerley
Governor Rotimi Amaechi tasted executive power and then began to lose critical thinking and discernment abilities. He began to see himself as some sort of god. He talked down on his commissioners, barked at aides and chastised many who dared to advise or correct him. He suddenly began to think and feel that he was beyond correction or admonition. His inability to manage his politics have turned out to be the genesis of his troubles many of which, he has cunningly  and deviously manipulated and put at the doorsteps of the President.
Today, whatever happens to Chibuike Amaechi suddenly ends up as a plot against him by the President or the Presidency.
When Rivers State lost some of her oil wells to a neighbouring state, it was the quick mouthed Amaechi who shouted that oil wells were being taken from Rivers State because 'they' hear he wants to run for President! How garrulous!
When Akwa Ibom State lost many of her oil wells to Rivers State, Governor Godswill Akpabio did not run to the press to plant dubious political conspiracy theories. In fact, it was the loquacious Amaechi who said that 'God has disgraced Akwa Ibom State'..!!
When Cross River State lost almost all her oil blocks to Akwa Ibom State, we did not hear that Governor Liyel Imoke planted any conspiracy theory about Cross River State being deliberately short-changed as a result of his perceived political ambitions!
They did not need to plant such dubious and selfish conspiracy theories because they knew that the answers were in the LAW. Not so for Amaechi. He had to bring President Jonathan into the matter.
As if that is not enough, the intensely garrulous Governor likes to state that he is being persecuted because he always says the truth and speaks his mind! What nonsense!
At a town hall meeting with Rivers people in Houston, Texas in January 2013, Amaechi is his usual loquacious, spoke about how the Presidency did not like Rivers State and is refusing to give anything to Rivers State.
He particularly mentioned, amongst others, that security waivers for surveillance helicopters which the Rivers State Government has been soliciting for from the Federal Government was yet to be given to the state.
He deliberately left out another interesting part of the story. He deliberately refused to inform the gathering of Rivers people that the same Presidency, through the office of the National Security Adviser, had part-funded the purchase of the two security helicopters with about $15 million! He kept that information out.
He did not tell the Rivers gathering it was he who recommended a name to the President for appointment as Managing Director of Niger Delta Development Commission (NDDC). That appointment was a Presidential Privilege that President Jonathan graciously offered to Rotimi Amaechi.
Neither did he mention that he recommended Nyesom Wike to the President for ministerial appointment and the President graciously accepted.
This morning, I read somewhere where a Lagos based writer wrote that Governor Rotimi Amaechi's profile is rising while that of the Governor Godswill Akpabio of Akwa Ibom State is falling. Almost sounds like heresy.
Former Governor Peter Odili was also very popular in Lagos State (and some other states) thanks to the hundreds of millions of naira he spent on public relations consultants, the media and TV.
While Odili's image was being brandished in Lagos and other areas, Rivers people and Rivers State was being recklessly pillaged and grievously short-changed. Today, many of those friends of Odili are no where around him. They deserted him when the reality began to dawn.
One of the flyovers that Odili built in those media-hype years collapsed last year.
Only days ago, thousands of indigenous Rivers youths demonstrated across Rivers state calling for the resignation of Rotimi Chibuike Amaechi as Governor of Rivers State. It was clear that Amaechi had lost it in Rivers State.
Not one group stood up for him. Not one.
Obviously, they have become fed up with the manner with which he lords over Rivers State. They have come to know that Rivers State has the highest number of failed Public Private Partnership (PPP) Projects in the country.
They have come to realize that in spite of the billions spent on projects like the Rivers Mega Hospital, Rivers Monorail, The Port Harcourt Ring Road, The Greater Port Harcourt Scheme etc, there was literally nothing to show for it.
On the Monorail matter, more than N20 billion have been spent on a less than 6 km stretch from Lagos bus stop in PH township to UTC junction and all there is no show are a pillars!
This was supposed to have been a PPP Project in partnership with the STI group, a business concern with ties to Rtd General Anthony Ukpo.
General Ukpo's company backed out of the deal but Rotimi Amaechi, against the advice of some of his close aides and members of his cabinet went ahead with the project. Much to the chagrin of Rivers people who felt that basic infrastructure like roads, drainages and fly-overs would have been better
Disclaimer:

"The views/contents expressed in this article are the sole responsibility of the author(s) and do not necessarily reflect those of The Nigerian Voice. The Nigerian Voice will not be responsible or liable for any inaccurate or incorrect statements contained in this article."