Top Entertainers, Wazobia FM OAPs to Storm ZABOOM RESTAURANT 1st Year Anniversary on Sat, June 1st.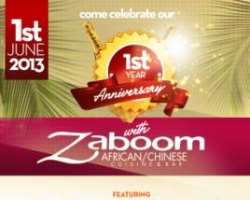 The popular Bar, ZABOOM is set to celebrates its 1 year anniversary with an elaborate party this saturday 1st June, 2013.
The purpose of the party, in the words of to the brain behind this well furnished Entertainment and fun centre, Chief Ejike Edem, " We are hosting an elaborate party, in other to say thank you to our numerous customers who has been there for us since inception".
Chief Edem also hinted that his company is also working round the clock for the inauguration of a record label, which is designed to help young, creative and talented Nigerians to actualized their dreams in the music industry.
The Party according to Yaw of Wazobiafm who is also the coordinator of the event will feature Comedy, Dance and Music by some top rated Nigerian entertainers whose names will be made known on the day of the event.
The event which comes up at ZABOOM Bar, Teslim Balogun Stadium, Surulere Lagos, beginning from 4.pm will be hosted by Tuale of Wazobiafm while the red carpet will be hosted by Uzo also of WazobiaFm.
Guests are expected from the Sports, movie, comedy and the Music, add glamour to the event said Olujuwon Bukunola-Philip, the publicist to the organizers.
It is Free for all!!!
ZABOOM BAR. situated inside the popular Teslim Balogun , Stadium was established a year ago and it offers a MIXTURE OF TASTE & KLASS in African & Chinese Dishes , Its also suitable for birthdays,weddings reception ,seminars,workshops etc. Fridays &Saturdays, are for DJ mix & sexy divas, live band performance, while last Friday of every month is ZABOOM NITE and it features live performance,comedians,artist and dancers etc.