N6.46 Billion Fraud: Court Fixes May 30 For Ruling On Sylva's Passport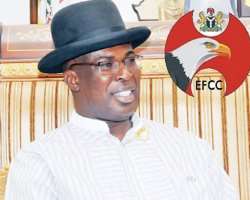 FORMER GOVERNOR OF BAYELSA STATE, TIMIPRE SYLVA
SAN FRANCISCO, May 28, (THEWILL) – Justice Adamu Bello of the Federal High Court Abuja Tuesday adjourned to May 30, 2013 ruling on the application by Timipre Sylva, former governor of Bayelsa State, seeking the release of his International passport. Sylva in his motion claimed that he wanted his international passport to enable him travel to the United Kingdom to attend to his wife who is to undergo a surgical operation.
At today's hearing, counsel to Sylva, O.I Olorondaye said he had filed a motion seeking the released of the applicant's International passport brought pursuant to section 33, 36 and 41 of the 1999 Constitution. The application was supported with an eleven paragraph affidavit and written address, a statement from the EFCC stated on Tuesday.
Olurondaye told the court that the former governor has given an undertaking that as soon as he returns from overseas, he will return the passport to the Registrar of the court. He further stated that the accused person always come to court regularly.
The defence counsel further told the court that the accused person surrendered himself voluntarily to the court in June 2012 when he was arraigned. He reminded the court that the passport was released to the accused last year to enable him travel and that upon his return, he brought it back to the court.
Prosecution counsel, John Ainetor, vehemently opposed the application. He asked the court to refuse and dismissed the application in the interest of justice. He said the accused did not need any medical attention personally, but only wanted to accompany his wife who he claims needed medical attention.
The EFCC counsel also revealed that there were pending allegations against the accused person and his wife and that the trip was a ploy to escape current investigation and possible trial.
Justice Bello adjourned the case to May 30, 2013 for ruling.