Kaduna Gov. Reshuffles Cabinet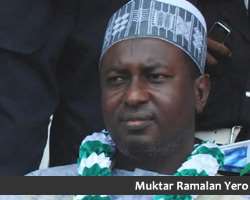 Kaduna State Governor Mukthar Ramalan Yero yesterday retained all the Commissioners appointed by his predecessor late Sir Patrick Ibrahim Yakowa, but reshuffled their portfolios.
The Director General, Media and Publicity to the Governor, Ahmed Maiyaki, said the exercise was with immediate effect.
According to the statement, former Commissioner of Agriculture, Dr IbrahimRamalan Giwa now takes charge of Science and Technology, GamboLawal from Commerce to Culture and Tourism, Suleiman Ibrahim from Culture and Tourism to Local Government, Timothy Gandu of Economic Planning to Commerce and Industry, while Mohammed Usman retains his seat as Commissioner ofEducation.
Zakaria Shamaki was moved from Ministry of Environment and Natural Resources to Inter Governmental Affairs, Dr John Ayuba moves  from Finance toWater Resources, Pharm Turaki Kalik from Health to Poverty Alleviation, even as Saidu Adamu retains his Information Ministry.
Barrister Jonathan Kish Adamu also retains his seat as Commissioner for Justice, while Sani Aminu Mohammed was moved from Lands and Survey to Youth andSports, Magaji Sadiq Hunkuyi from Local Government to Economic Planning, while Arc Isa Idris Umar was moved from Rural and Community Development to Lands and Survey.
Similarly, Bashir Ibrahim Sakadadi of Science and Technology is now theCommissioner of Agriculture. Sunday M. Katung moves from Water Resources to Finance, Engr. Suleiman Y. Richifa also retains his Works and Transportportfolio, while Nazifi Mohammed of Youth and Sports is now to man Rural andCommunity Development ministry.
Nasiru Aliyu Damau of Inter-Governmental Affairs was moved to Chieftaincy Affairs, Halima Saidu Labo, Felix M. Gimba and Ali Kalat remain Special Duties Commissioners while Pharm Patrick S. Maigari leaves Special Duties ministry toHealth.
Others were Mrs. Maria S. Dogo who remains Women Affairs Commissioner andDavid Audu Chatjok who replaces Haruna Gaya, the present Kaduna State PDPChairman as Commissioner of Environment.
In his charge to the Commissioners, Governor Yero urged them to re- dedicate themselves to the service of the people of Kaduna state.