Syrian Opposition Disarray Threatens International Support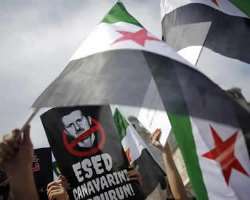 Diplomatic efforts intensified on Tuesday to solve a crisis in Syria's opposition which threatens to derail a planned peace conference and rob the Islamist-dominated alliance of international support.
After six days of talks in Istanbul, the 60-member Syrian National Coalition has failed to agree on the wider involvement of a liberal opposition bloc, to the dismay of Western and some Arab backers keen to reduce the influence of Islamists.
More than two years after the uprising against President Bashar al-Assad began, the disarray raises questions about the opposition's ability to agree any sort of inclusive transitional government and could strengthen Assad's hand ahead of a U.S. and Russian-backed peace conference planned for the coming weeks.
It also comes as Assad's forces regain ground inside Syria, with fighting raging around the strategic border town of Qusair and the capital Damascus in recent days, and as Western nations remain divided on supplying arms to the rebels.
Russia and the United States are trying to bring Assad's representatives and the opposition together at a conference in mid-June in Geneva, the first serious diplomatic effort in nearly a year to end a war which has killed more than 80,000.
Syria's government has said it will attend, but the fractious opposition has not yet committed, potentially a major embarrassment for Washington and the alliance's other backers.
Senior representatives from Qatar, a major player behind the opposition, as well as other Western and Arab powers were due in Istanbul later to try to break the deadlock, joining envoys from nations including the United Arab Emirates, Jordan, France and Britain who have been monitoring the talks since last Thursday.
A senior Saudi Arabian official was also expected to attend.
"Effectively, without an opposition overhaul there will not be a Geneva," one senior regional official said.
In a sign of the disarray, the opposition delegates were forced to decamp from the hotel where they were meeting, originally booked for three days, to another venue even further out on the fringes of Istanbul.
Senior coalition officials are painfully aware that their failure to agree after days of late-night bartering risk undermining their credibility and giving ammunition to Assad at a critical juncture.
"In Geneva, we are going to face a disciplined team that is going to be sent by Assad with experience in negotiating with Israel for decades. We can't afford but to send our top people if we decide to go," one senior opposition source said.
HIGH STAKES
The coalition had meant to discuss a new leadership in Istanbul, including the fate of provisional Prime Minister Ghassan Hitto, who has not been able to form a provisional government in exile since being appointed on March 19.
But it is still stuck on whether to admit a liberal bloc headed by opposition campaigner Michel Kilo, a respected Christian writer whose group has been offered only five seats instead of the more than 20 it had been seeking.
Failure to broaden the coalition, in which Qatar and a bloc largely influenced by the Muslim Brotherhood has been playing the driving role, could undermine Saudi Arabian support for the revolt and raise the specter of a rivalry among Gulf powers that could further weaken the opposition.
With Lebanese Shi'ite guerrillas from Iranian-backed Hezbollah now openly fighting alongside government troops in Syria, Saudi Arabia is keen to play a greater role in backing the Sunni-led opposition, opposition sources have said.
Farouk Tayfour, deputy head of the Muslim Brotherhood, who fought against Assad's father in the 1980s, met with Kilo late on Monday in a possible sign of a detente.
"Tayfour addressed the coalition yesterday and told them in a stern tone that this is unacceptable. We are jeopardizing our credibility," another coalition source said.
George Sabra, the acting head of the coalition, appeared intent to drop the issue and proceed with electing a new leadership. But other senior opposition officials said such a move would only deepen divisions.
"If they go ahead with choosing a new leadership, they are setting the stage for a war between Qatar and Saudi Arabia, and nobody wants this," one of the officials said.
REUTERS