Stock Futures Point To Higher Open On Central Bank Comments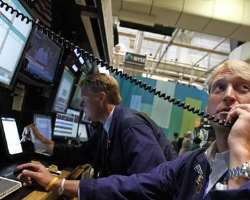 Stock index futures pointed to a higher open on Tuesday as supportive comments from central banks around the world reassured investors that monetary policies designed to support the global economy would remain in place.
Equities have been closely tethered to monetary policy, with major U.S. indexes last week posting their first negative week since mid-April on lingering concerns that the Federal Reserve may scale back its stimulus measures sooner than expected.
Both the Bank of Japan and the European Central Bank reaffirmed that their policies would remain in place. On Monday, when U.S. markets were closed for the Memorial Day holiday, ECB Executive Board member Joerg Asmussen said the policy would stay as long as necessary. On Tuesday, BOJ board member Ryuzo Miyao said it was vital to keep long- and short-term interest rates stable.
Monetary stimulus from central banks has been a major contributor to Wall Street's gains this year, lifting the S&P 500 more than 15 percent. Analysts have also cited earnings growth and relatively cheap valuations as reasons investors have used any market decline as a buying opportunity, helping lift both the S&P and Dow to a series of new highs.
"Whenever the Fed starts slowing its stimulus, that will have an impact on markets, but there's enough strength out of retail and housing that we can sustain our gains, especially with Japan making it very clear what its policy will be," said Tad Hill, chief executive of Freedom Financial Group in Birmingham, Alabama.
Cyclical sectors, which are closely tied to the pace of economic growth, are likely to advance on any sign of continued supportive policies. Bank of America (BAC.N) rose 1.7 percent to $13.46 in premarket trading while Citigroup Inc (C.N) was up 1.8 percent at $51.45.
S&P 500 futures rose 13.9 points and were above fair value, a formula that evaluates pricing by taking into account interest rates, dividends and time to expiration on the contract. Dow Jones industrial average futures added 118 points and Nasdaq 100 futures rose 27.75 points.
Investors will be watching the S&P's 14-day moving average of 1,647.91. On Friday, the benchmark index briefly fell below that level though it subsequently rebounded and closed above it. If the index remains below that level for a protracted period, it could portend waning momentum.
In the latest economic data, home prices rose 1.1 percent in March, according to the latest S&P/Case Shiller data. Analysts were looking for a rise of 1 percent.
The Conference Board's consumer confidence index for May is seen coming in at 71, up from 68.1 in the previous month. The consumer confidence data is due at 10 a.m. (1400 GMT)
"The confidence data will be very important as a lot of data prior to this has been mixed, with housing strong but manufacturing soft," said Hill.
Luxury retailer Tiffany & Co (TIF.N) on Tuesday reported adjusted earnings and sales that beat expectations, sending shares up 5.6 percent to $80.50 before the bell.
Abercrombie & Fitch Co (ANF.N) late Friday reported a drop in first-quarter same-store sales that was steeper than expected and cut its full-year profit view.
With 486 S&P companies having reported, 66 percent have topped earnings expectations, about even with the 67 percent beat rate over the past four quarters. Only 46 percent of companies have beaten on revenue, lower than the 52 percent rate over the past four quarters.
Omthera Pharmaceuticals (OMTH.O) soared in premarket trading after AstraZeneca (AZN.L) (AZN.N) agreed to buy the company for $443 million.
REUTERS