APC Woos Kwankwaso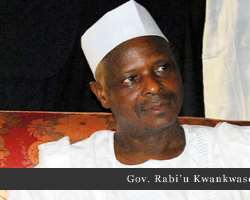 Indications have emerged that leaders of the newly formed All Progressive Congress (APC) are mounting serious pressure on Kano state Governor, Engr. Rabiu Musa Kwankwaso to join the party as they plan assiduously to wrestle power from the ruling Peoples Democratic Party (PDP) come 2015.
Though there discussions and offers to Kwankwaso is not yet public, proclamations made by former Governor of Lagos state and one of the champions of the APC at the 3rd Convocation of Kano State University of Science and Technology (KUST) on Saturday left no one in doubt that the APC has been making passes at Kwankwaso to join the train.
Tinubu was among recipients of Honouraray Doctorate degree award from the University founded by Governor Kwankwaso during his first tenure between 1999 and 2003.
According to Tinubu, APC is the most potent and heterogeneous party, adding that it is a party of progressives which need great minds and achievers like Kwankwaso.
You are different because you are in the stable of progressives, we will soon make a pronouncement, we must bring that change, Tinubu told Kwankwaso.
Tinubu noted that the opposition leaders will remain resolute in their desire to reconstruct Nigeria into a sturdy and bright home by creating a chance of a bright and better future that will render extinct the nation's growing poverty rate with unemployment and insecurity.
The Asiwaju of Lagos who was conferred with Honoury Doctorate on Science further noted that there are leaders in this country with the ability and capability to turn the nation around by chasing away, the demons, whose activities have remained a source of impediment to the general growth of the Nigerian society.
History teaches that those who stay resolute shall win in the end, we are resolute for there is no shame in wanting democracy, no shame in wanting prosperity, fighting against poverty, ignorance and diseases, just as there is also no shame in believing in justice, striving for a better life and demanding good governance."  He said,  "a heavy cloud hovers over-head and there seems to be no woe by which we are not besieged: poverty, unemployment, diseases, religious and ethnic divides as well as terror, sadly, our house is weak because of poor infrastructure. According to him, all that is needed to address the country's problem is to possess the willpower to face the challenges, stating that education plays a vital role in this direction.
To lift this nation from its low state, you must equip the people with the knowledge needed to face the challenges on ground. Education is a practical dynamic thing that must be adapted to our needs and reflect our circumstance; it must give us the skills needed to become architects of the destinies we seek and not idle bystanders in our lives. He noted further that an effective educational system must turn people into positive, social and economic actors, "we should not abide by a system whereby 1.7 million candidates seek admission to universities, where only 5000 places exist in both private and public universities. Lamenting the danger of unemployment, he described as a costly waste to educate children with knowledge irrelevant to the society as it makes little sense, "to give our people skills for jobs that do not exist, while the work at hand goes undone because of lack able labour.
We shall create the change that will render extinct Boko Haram and other violent movements across the land. In the face of increasing progress and prosperity, such groups shall remain where they belong; small, fringe and inconsequential. By wedding innovative technology and good governance, we guide the nation to her better future.
There will be no need to even contemplate a state of emergency in Nigeria, there will only be a nation and 36 states of emergence towards development, prosperity and hope," he noted.
Tinubu, however, pledged to build a science incubator that will be a reservoir of knowledge where students can create websites to enhance their academic performance.
Tinubu described the award as a symbol of unity, saying that the institution realized that fact that, "we are one in Nigeria regardless of cultural, religion or political differences. I am touched to the heart by this expansive gesture. In doing this, you ignored the imaginary divide between North and South because of your nationalistic courage; you recognize no such divide exists except in the minds of those who would keep us down, divided and at each other's throats.
In your wisdom, you realize that we are one. Come what may, we shall remain one. I commend your courage and wisdom. You must maintain this standard because we need this type of courage and wisdom to see our nation through its current tumult. Although storms break all around us, we shall not faint. We shall not cower in fear for our purpose is right and our ways are democratic and just," Tinubu eulogized Governor Rabiu Musa Kwankwaso.
Kwankwaso who is the founder and visitor of the University in his speech during the occasion recalled the commencement of academics in the university in 2001 with 548 students, pointing out that today, "twelve years later, the University is graduating 696 students for the 2011/2012 session with a total enrolment of almost 10, 000 students and 23 academic programmes. According to him, the University's projection is that a decade from now, the University will have a student population of 25, 000.
He expressed his delight over the Convocation of the university, adding that the conferment of Honourary degrees on four eminent Nigerians, including Boala Ahmed Tinubu, Senator Hamisu Musa, the Emir of Daura, Alhaji Umar Farouk Umar and Alhaji Mudi Spikin who was honoured post-humoursly.
In his brief speech, Chancellor of the University, Aliko Dangote congratulated the graduands and wished them a successful career in their future endeavor, urging them to be good ambassadors of the institution.
I also encourage you to put to use your entrepreneurship skills acquired while in the institution," while thanking Governor Kwankwaso for his relentless support to the University and in the general development of Kano, especially, the creation of additional tertiary institutions and his programme for foreign training for higher degrees initiative in the state.
Among dignitaries who accompanied Tinubu to receive the award include Governors of Ogun and Oyo states, Senator Ibikunle Amosun, Senator Bola Ajimobi, former Ogun state Governor, Olusegun Osoba, General Muhammadu Buhari, Nuhu Ribadu, Speaker of House of Representatives, Aminu Waziri Tambuwal.
Others are ACN National Chairman, Bisi Akande, Lai Moahammed, Emir of DASS, Alhaji Bilayyamumu Usman, former Governor of Benue state, George Akume, Hon. Bashir Adamu, Senator Kabiru Gaya, Hon. Kawu Ismaila, former Minister of Labour, Musa Gwadabe, Deputy Governor of Kano state, Abdullahi Ganduje, chairman of Kano Elders Forum, Magaji Dambatta, former Deputy Governors of Kano state, Abdullahi Gwarzo and Magaji Abdullahi and Chancellor of the University, Aliko Dangote.