Abati Loses Mum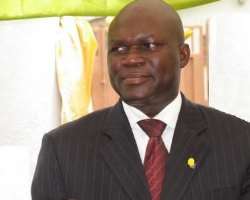 Maria Taiwo Abati, the mother of the Special Adviser to the President on Media and Publicity, Reuben Abati, is dead.
Mr. Abati made the announcement of the death on behalf of his family.
The late Mrs. Abati, 81, was described as a devout Christian, a very kind and loving person. She was born on 7th August 1931.
She was born into the family of late Samuel Jobo Arowotadina and Late Elizabeth Efundunke Arowotadina of Ijemo, Abeokuta. She was a trader at Kuto Market for many years and was popularly known and addressed as Mama Adunni or Mama Sunday.
She is survived by children, grandchildren and great grandchildren including Mr. Abati; Robert Abati, a Geologist with Dangote Cement; Ralph Abati, a banker with Fidelity Bank Plc; and Lanre Abati, an Economist & Chartered Accountant. She is also survived by her twin sister, Victoria Kehinde Olude.
Funeral arrangements will be announced later, the presidential aide said.