Senate Faults NITEL/MTEL Sale, Says Concession, PPP Better Than 'Guided Liquidation'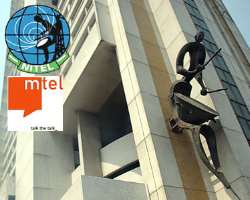 ABUJA, May 23, (THEWILL) – The Senate Committee on Privatisation and Commercialisation has rejected the sale of Nigeria Telecommunications Limited (NITEL) and its mobile subsidiary, MTEL.
Chairman of the Committee, Senator Olugbenga Obadara, insisted that NITEL/MTEL concession or a Public/Private Partnership will be of greater benefit to the country instead of the "guided liquidation" embarked upon by the Federal Government.
Obadara made the position known while briefing newsmen after a meeting with the Bureau of Public Enterprise (BPE) and National Council on Privatisation (NCP) on the ongoing sale of the state-run communication company.
He wondered whether the BPE and NCP were ignorant of the actual worth of NITEL/MTEL.
"NITEL is owing stakeholders N351billion out of which N179billion is owed Federal Government alone but the available fact before us is that government agencies is owing NITEL over N250billion.
"They (BPE/NCP) cannot tell us the worth of NITEL, yet they want to liquidate, as people representing Nigerians who brought us here, we cannot allow such to happen," he said.
He added that at present NITEL owes banks N64 billion.
Obadara traced NITEL's problem to the now reversed dubious sale to Pentascope while former FCT Minister, Mallam Nasir El-Rufai, was the Director General of the Bureau.
"Don't let us lose the fact that the problem of NITEL started from Pentascope regime, a firm which started operation in a shop in Netherland and squandered N100 billion it met in NITEL account when it took over," Obadara said.