House Okays Conference Report On Emergency Rule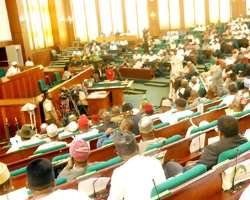 ABUJA, May 23, (THEWILL) - The House of Representatives on Thursday unanimously endorsed the committee conference report which amended President Goodluck Jonathan's declaration of state of emergency in Borno, Adamawa and Yobe States.

The House had in its version proposed compensation for victims of terrorist activities in the case of emergency. The clause was adopted by the conference committee and it was also approved by the House.

Section 2 (f) states that the president should " provide for the payment of compensation and remuneration to persons affected by the order (state of emergency)".

Closely related to that, section 2(e) states that the president should "provide for protection, documentation, return, re- integration, resettlement, rehabilitation, compensation and remuneration of persons affected by this Order."

Presenting the report for consideration and adoption, a member of the conference committee and Chairman of the House Committee on Judiciary, Hon. Aminu Shehu Shagari (PDP, Sokoto), explained that the lawmakers were acting on the proclamation because of its importance to public order, peace and security of Nigeria.

The state of emergency (certain states of the Federation) Proclamation, 2013 was passed by both the Senate and House on Tuesday, May 21.

However, due to differences in the versions passed by the two chambers, a conference committee was set-up by both chambers to harmonise the differences.

Briefing the media after the session, deputy chairman of the House Committee on Media and Public Affairs, Hon. Victor Ogene, said the House took its stance to protect democratic tenets and accountability.

"There are democratic tenets that must still be protected and this is why we have certain differences in the versions passed. There was a familiar trend that ran through our debate on the proclamation," Ogene said.

He said although the committee was not comfortable with the clause that gave sweeping powers to the president to even utilise State and Local Government funds for the purpose of the declaration, it approved it but would monitor it closely.

"For instance, Clause 3 (2) (e) page 7 of the gazetted declaration submitted by the executive talks about utilisation of funds of any State or Local Government in emergency areas. But we are not comfortable with the clause because we feel funds coming to the State and Local Governments should not be used for emergency, there is the tendency for anyone to want to prolong the time of emergency. We stand by the report of the conference committee," he said.

The conference committee was made of the following lawmakers: Senator Ita Enang (chairman); Hon. Albert Sam-Tsokwa (co-chairman), Senator Nenadi Usman, Senator Joshua Ludani, Senator Babayo Gamawa and Senator Kunlere Boluwaji. Others are Hon. Nkoyo Toyo, Hon. Ahmad Ali, Hon. Ben Nwankwo, Hon. Nathaniel Agunbiade and Hon. Chikere Kenneth.