FG Determined To Create Vibrant Private S Sector – VP Sambo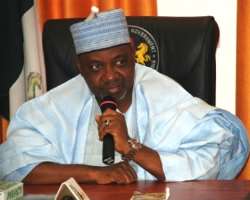 Vice President Arc Mohammed Namadi Sambo has said that the President Goodluck Ebele Jonathan led Administration is determined to create a vibrant private sector in the country.
Vice President Sambo stated this Thursday, when he performed the ground breaking ceremony of the Idu Industrial Park in Abuja.
To this end Vice President Sambo said government had instituted series of reforms and incentives that would create competitive advantages for the private sector in the country particularly in the face of rapidly increasing globalisation.
'These incentives include 3-5 year Tax moratorium, 100% Repatriation of Profit (100%), 140% Capital Allowances on Research & Development, 20% Capital Allowances for 5 years on local raw materials utilization and 30% tax relief on expenditure in respect of public infrastructure', he said.
While commending the Federal Capital Territory Administration and Messrs Zerberced Limited for the laudable initiative, ingenuity, altruism and for promoting the Transformation Agenda, directed relevant government agencies to assist them in the execution, operation and attraction of patronage from both local and foreign investors.
'The Federal Capital Territory Administration has displayed a high sense of responsibility and responsiveness in the implementation of the Transformation Agenda. The collaboration with Messrs. Zeberced Limited for the establishment of an industrial Park is therefore in line with our National Implementation Plan under the Nigeria's Vision 20: 2020.'
In his remarks, the host of the occasion and the Minister of FCT, Senator Bala Mohammed said that the initiative was a fallout from President Goodluck Ebele Jonathan's 2011 State visit to Turkey. He noted that the project is wholly private sector driven and factored under the FCT Land Swap Policy.
He added that the Project when completed would provide over 40,000 jobs and over 170 small and medium scale industries. While calling on investors to take advantage of the opportunities that abound in the FCT he said 'those who sit back and drag their feet will have a rude awakening in no distant time, when the early birds begin to count their grains.'
In his remarks the Managing Director of Zeberced and the project investor, Mr. Adil Kurt said that the project situated on 250 hectares of land would provide an integrated infrastructure to the tune of 200 million dollars.
He said the project which is all encompassing would boast of road network, sewage system, natural gas pipeline, a rail link to the national rail corridor and independent power supply. He further said that the project involves 177 factory plots and other sundry facilities.
Present at the occasion were the Minister of Trade, Industry and Investment, Dr. Olusegun Aganga and the Minister of State, FCT, Oloye Olajumoke Akinjide. Others were members of the National Assembly, Royal fathers and numerous other dignitaries.