Bernanke Expected To Stay The Course On Fed Policy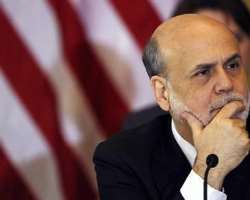 Federal Reserve Chairman Ben Bernanke is not expected to hint at a pending policy change when he testifies before the U.S. Congress on Wednesday despite some speculation among investors that the central bank could soon reduce its massive bond buying program.
Bernanke's close ally, New York Fed President William Dudley, stressed repeatedly on Tuesday that uncertain economic conditions meant it was too early to determine whether to taper the Fed's $85 billion in monthly purchases.
"It's too soon to make that determination," Dudley said in a Bloomberg TV interview that took place Tuesday but aired Wednesday. "I think three or four months from now you'll have a much better sense of is the economy healthy enough to overcome the fiscal drag or not."
Dudley added it was possible to dial down the quantitative easing program by the fall "if the economy does better and if the labor market continues to improve" in the face of lower U.S. government spending and higher taxes.
Bernanke could shed more light on the thinking of the majority of the Fed's 19 policymakers when he testifies before the U.S. congressional Joint Economic Committee at 10 a.m. EDT.
His remarks will be followed by the release at 2.00 p.m. of minutes of the last Fed policy meeting on May 1, which economists expect to give further details of how it will eventually manage the exit from ultra-easy policies.
U.S. stock futures edged higher before the open of markets on Wednesday, holding gains from Tuesday when a dovish speech by Dudley helped give both equity and bond markets a boost.
OVERREACTION RISK
The central bank is currently buying $85 billion in Treasury and mortgage bonds each month in an effort to keep borrowing costs low and encourage investment, hiring and economic growth in part because the unemployment rate remains high at 7.5 percent.
Yet with joblessness down from 8.1 percent in August, just before the third round of easing (QE3) was launched, investors anxiously await Bernanke's testimony for signs of when the bond-buying will be reduced or halted.
Jan Hatzius, chief U.S. economist at Goldman Sachs, expects a "steady-as-she-goes monetary policy message" from Bernanke.
"The still-large amount of labor market slack and the weakness in inflation imply that it is too early for Fed officials to let up in their efforts to boost growth," Hatzius wrote in a note to clients.
"While inflation expectations have remained stable so far, we believe it would be risky for the (Fed) to test this stability by delivering a hawkish monetary policy surprise anytime soon."
In a speech on Tuesday, Dudley, who has a permanent vote on Fed policy, highlighted this risk that investors will overreact to the first adjustment to the pace of bond-buying.
"There is a risk that market participants could overreact to any move in the process of normalization," Dudley said.
"Indeed, there is some risk that market participants could overreact even before normalization begins, when the pace of purchases is adjusted but the level of accommodation is still increasing month by month."
The Fed next meets on June 18-19 to decide on policy.
REUTERS