Federal Government Alerts States On Likely Heavy Flood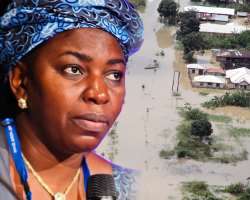 MINISTER OF WATER RESOURCES, MRS. SARAH OCHEKPE
SAN FRANCISCO, May 21, (THEWILL) - The Federal Government has advised states and Nigerians living in flood prone communities to take precautionary measures against heavy flood which may result from torrential rainfall as well as opening of the Lagdo dam by the Cameroonian authorities as it happened last year.
A statement from the Office of the Senior Special Assistant to the President (Public Affairs) said the warning was given by the Minister of Water Resources, Mrs. Sarah Ochekpe in a meeting with the Senior Special Assistant to the President on Public Affairs, Dr Doyin Okupe in her office.

According to Mrs. Ochekpe, in view of the fact that the Kashimbilla multi-purpose dam being constructed by the Federal Government in Taraba state to reduce the impact of water released from Cameroon is not yet completed, there is a need for concerted efforts by state governments to mitigate the likely effect of the large volume of water that may be released from the Cameroonian dam in the peak of the raining season.
While stating that Nigeria and Cameroon have reached a substantial level of understanding on how to prevent an occurrence of the devastation caused to Nigerian communities last year, the Water Resources Minister urged state government to complement this initiative by clearing drainages and evacuating people from flood plains in their states.
She also disclosed that work is at various advanced stages on twenty three dam projects which the Jonathan administration embarked upon to provide safe water for different communities, irrigation for farmers and generate additional megawatts for the power sector in the country.
Ochekpe said six of the dams located in Imo, Ondo, Katsina, Abia, and the Federal Capital Territory are ready for commissioning while the Kashimbilla multi- purpose dam will be ready before the next raining season.
Speaking earlier, the Senior Special Assistant to the President on Public Affairs, Dr Doyin Okupe said the Jonathan administration has made greater impact on all sectors of the nation's socio-economic landscape than any previous administration in two years.
He stressed the need for greater collaboration between the Ministry of Water Resources and the department of Public Affairs in order to effectively transmit the giant strides of the Transformation Agenda in the Water sector to the public.