Delta Needs Over 200 Billion Naira To Tackle Ecological Challenges, Says Uduaghan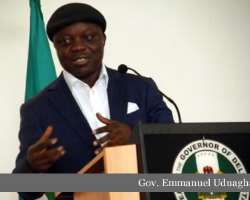 …Seeks collective efforts to save the environment
Delta State Governor, Dr. Emmanuel Uduaghan has disclosed that the State requires more than 200 billion naira to tackle ecological challenges in the state, calling for collective efforts of all Nigerians to save the environment from degradation.
Governor Emmanuel Uduaghan who  Monday  at the National Conference on Environment organised by the House of Representatives Committee on Environment in Abuja, asserted, "we must all take the responsibility of saving our environment seriously."
According to him, 'a lot of environmental challenges are man-made, so as individuals and as groups, people should work to save the environment,' observing  that indiscriminate dumping of wastes and poor sanitation practices, deforestation caused by lumbering for timber and urbanization, oil spillages caused by illegal bunkerers, gas flaring by oil companies, sand dredging and mining activities, among others were man made activities that have negatively affected the environment.
The Governor noted that Delta State was witnessing a lot of environmental challenges, stating that the total forest area of the state have been reduced by 45 per cent as at 1999 while floods, droughts, storms, heat waves, changes in agricultural growing seasons and sea level rise caused by climate change "have affected our water resources, agricultural and forest products, food security, human health and infrastructures, displacement of inhabitants and loss of livelihood."
He emphasised that the flood that ravaged the state last year led to loss of lives while many farmers who took loans lost all that they invested, reiterating that his administration was committed to reducing environmental degradation and effects of climate change on Deltans.
"Over the years, the Delta State government has embarked on soil and coastal erosion control measures in parts of the state,  reinforced drainage networks, route gully reclamation through safe laterite sand filling and construction of massive shoreline protection measures', the Governor said, adding, "to effectively tackle ecological challenges, the state will conservatively require over 200 billion naira."
While stating that his administration was pulling down all structures on water ways, Governor Uduaghan said, "We are building international synergy".
He disclosed that Delta State is occupying a vital position in the R20 group which comprises "sub-national governments across the world and partner organisations committed to promoting climate resilient projects as well as combating climate ."
The Governor asserted that his administration was partnering with different organizations to ensure a friendly environment, adding that his administration was working with Chief Newton Jibunor, an environmental crusader to plant 95 trees to commemorate former President Nelson Mandela's birthday.