IMO YOUTHS CANNOT BE DECEIVED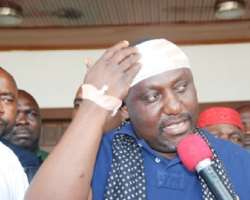 The attention of Imo Youth Assembly (IYA), the apex socio-political, Non- Governmental Umbrella of the entire Youth leadership in Imo State, comprising Orluzurumee Youth Assembly, Okigwe Youth Assembly and Owerri Zonal Youth Assembly has been drawn to the meeting convened Monday 13 May, 2013, by the Executive Governor of Imo State Owelle Rochas Okorocha, for a select number of Youths some of who were invited through text messages. The meeting which held at the Dan Anyiam Stadium Owerri, was instead presided over by the Hon. Commissioner for Youths and Sports, Mr. Kenneth Emelu had in attendance the Agenda and C.G.C Youth Leaders most of who are unrepentant loyalists and worshippers of Governor Owelle Rochas Okorocha.

At the meeting, Owelle Rochas Okorocha, having realized the need to address the problem of Imo Youths especially for political reasons, now that he is highly embattled on all fronts by several EFCC findings, promised to now commence the employment of all graduate Youths in Imo State through the payment of N20,000 monthly salary and annual subventions of N150,000 to each of the registered Youth organizations in Imo State. This promise however came with a proviso, that there will be a compulsory identification rally whereby all the graduate Youths will march past the Governor carrying banners of their respective organizations in the Stadium for a head count, before they can benefit from his GRADUATE MUST WORK PROGRAMME.

Imo Youth Assembly wishes to re-iterate and state as follows; that,

1. The Governor, Owelle Rochas Okorocha, if after 2 years in office, has not made efforts to compile and organize a database or document the average number of unemployed Youths in Imo State as we have consistently advised, cannot now subject unemployed graduates to an embarrassing and demeaning march past and salute to a self conceited and ego centric emperor, for them to receive the presumed N20,000 monthly stipends.



2. If Governor Rochas Okorocha has now come to terms with the costly mistakes and gross misdemeanor of neglecting and abandoning the Youths. He should start with the pressing need of re-absorbing the dismissed innocent 8,700 Youths officially verified by the Rescue Mission Agenda as truly employed by the previous administration. No march past or rally is needed to identify these disengaged and frustrated graduates whose appointment he once ordered reviewed, verified and cancelled, despite all appeals from various leaders to reverse it; even the court action instituted by these youths he has done everything to frustrate, including changing counsels on several occasions purely for the sake of delaying the inevitable

3. Annual subventions for Youth organizations are budgetary allocations to registered youth organizations and this is according to the size, capacity and nature of operations of the individual youth organization. It has never been and cannot be handouts for sharing after a rally or match past. They are used to cushion the bundle of salaries, rents and other activities of such NGOs, or Faith Based Organization for the total capacity building of young people. It is never a political windfall or tools used to woo and lure young people and expose them to political thuggery, gangsterism and brigandage or for the formation of Imo Security Network.

· Do you need to invite Imo youths to Dan Anyiam stadium with glaring T.V camera's in order to offer a monthly stipend of N20,000 to unemployed graduate youths?
· What budgetary sub-head should the Twenty Thousand Naira stipends be, since 2013 budget is yet to be passed or accented to by the governor?
· What is the purpose of the Community Government Councils (CGC) inaugurated in the entire 637 autonomous communities of Imo state, if the government cannot through a public announcement direct the unemployed youths of Imo state to their various Community Government Councils to fill and file the requisite forms for the stipend. Do we need a rally to effect such?
· If Government of Okorocha is truly concerned about the plight of unemployed Imo youth graduates, why don't he recall the beneficiaries of the ten thousand jobs.
· What is the exact duration of these monthly stipends? Why should the unemployed Imo youth graduate be paraded on National T.V even before they are given the monthly stipends?
· Isn't this another political abracadabra?
· Why doesn't the government first give the Twenty Thousand Naira stipend and subvention to the youth organizations before parading them on National T.V?

From the foregoing, it is quite obvious that His Excellency Owelle Rochas Okorocha does not mean well for the youths of Imo State and only attempts to bring them together for political expediency. How come the Government after 2 years, is yet to set any machinery in motion to identify, verify and register the army of unemployed youths in Imo State, holistically and has been unable to pay budgeted subventions to voluntary youth organizations. Most ridiculous is that the Governor has continued to host Northern Hausa Youth Leaders in Imo Government House but has not found it necessary to have a single interaction with organized Youth Leaders in the State since he became Governor.



The Executive Governor having exposed himself to serial ridicule and opprobrium as was the case in the J. PROS - gate scandal in which he willfully paid upfront a whopping N1.3B of Imo Public fund to his Lebanese contractor friend only to turn around to induce his house member apologists to impeach his Deputy for allegedly collecting bribery money of N458M, should hide his head in shame. Yes! the money was eventually traced to the Lebanese foreign account. As we speak, the contract is yet to be fully executed and the N1.3B already embezzled, is yet to be returned to Imo State Government.

Isn't this J-PROS saga similar to the clear case of money laundering or capital flight from Nigeria? Also the recent accident contraption in which the Governor was purported to have sustained a head injury in a head-on-collision with a rickety Mercedes Benz and was rushed abroad for further treatment; only to return a week later to reward his co-conspirator with N200,000 and an appointment as SA on accident matters. All these criminal and deceptive shenanigans have dealt a more devastating blow to the supposed integrity and acclaimed reputation of Governor Owelle Rochas Okorocha and the entire Imo public

The Imo Youths have continued to wonder how a rickety Benz driver with probably an expired license and vehicle that is not road worthy will hit a Governor convoy on official inspection of projects and was able to
target just the Governor's vehicle, injuring him and in that abrakadabra manner, still be so celebrated as a hero.

The Youths of Imo State should as well, henceforth drive their cars onto the Governor's convoy since this has become the only avenue for recognition, elevation and celebration. Governor Owelle Rochas Okorocha did not stop there. Just three hours after the arranged accident and his personal physician had certified him stable and medically fit, he was already enroute London simply to confirm as he stated, "if his head was normal or mental". This is not withstanding his self acclaimed refurbishing and privatization of the State owned Specialist Hospital in Owerri.

The worst case scenario that has baffled every discerning mind is his recent embarrassing romance with APC after destroying the renowned Igbo Party APGA which platform he used to access power having travelled from PDP to ANPP to AA back to PDP then to Labor Party. This recent charade is no doubt a self destruct and journey to political wilderness for Rochas Okorocha who is well known as a mole and who once betrayed and rubbished the then ANPP Gen. Muhammadu Buhari to settle for a plate of porridge in the office of President Obasanjo. Imo Youths as discernable and right thinking people cannot be lured to join the Owelle's political jamboree with people who have continuously murdered in cold blood, our citizens living in the North, for no just cause.

It is very obvious that the aim of the Governor is to deceive the Youths into participating in a political rally to showcase his strength in support of his APC sojourn. While we cannot claim to have been treated exceptionally well by the PDP Government at the national level, we the Imo Youths as cerebral minds, cannot journey with Governor Rochas Okorocha to this political landmine. The entire N20,000, IM0 YOUTHS MUST WORK package now is obviously a Booboo trap designed to rail-road the entire youths of Imo, and subject us naked dance in the market square by Owelle Rochas Okorocha In front of his AIT and channels TV cameras. Political marketing and cheap publicity have been used on unsuspecting subscribers who are treated to opera. Whereas the real position is that water does not flow anywhere from public taps, two years after. We have seen the Heroes Square and the ongoing road constructions but any infrastructural outlay without human capacity building will boomerang.


This our Governor who had an opportunity to deepen Democracy but who has deliberately killed the LGAs in a bid to pocket their N3B monthly allocations, at the expense of Imo graduate Youth who could lead independent lives as Councilors, Supervisors or even Chairmen and Secretaries rather than wait for Okorocha's N20,000 monthly stipend.

Besides the 10,000 youths he dismissed from service, Rochas Okorocha also dismissed 100 from Imo State Geographic Information Agency (ISGIA) while causal workers employed since 2007 by the LGAs, were equally disengaged. Most teachers employed into the primary school system since 2011 are yet to receive a single monthly salary yet Okorocha has realized more than N200B as statutory allocations, in his two years in office.

We in Imo Youth Assembly the umbrella youth organization in the state , representing ORLU ZRUMEE YOUTHS, Owerre Zonal Youths Assembly and Okigwe Youths Assembly want to make it clear that as an independent youth organization, we disassociate ourselves from and with this may 20th2013 deceptive political jamboree staged for the benefit of the governor's APC colleagues than the youths of Imo