Former Vice President, Dr. Alex Ekwueme Says Anambra Polls "not Credible"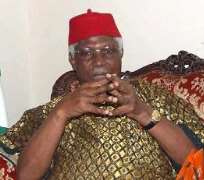 "I am out of the country at the moment and so am not fully in the picture on the issues you raise however for a person to be properly declared winner of a governorship election on the first ballot he must fulfill the twin constitutional requirements of superiority of votes and adequate spread of these votes in a minimum of local government within the State - as for disenfranchisement of votes it should be sufficient to say that an election in which only about 17% of registered voters are allowed to vote cannot be regarded as credible." – stated the former vice president of Nigeria and indigene of Anambra State to Ukpakareports.com in response to the recent call for a redo of the recently concluded February 6, 2010 gubernatorial elections in Anambra along with the widely reported case of disenfranchisement of voters.
The day of the gubernatorial election in Anambra, the former vice president of Nigeria, Dr. Alex Ekwueme at his country home in Ezioko, Oko attempted to exercise his civil rights to cast his vote for his choice gubernatorial candidate in the same manner he had done during the Senatorial re-run election that saw the election of Senator Ikechukwu Obiorah less than a year ago. But a puzzling 'thing' happened.
Unlike the Senatorial election where he was able to find his name in the voter's register, the former vice president was unable to find his name in the voters register. The same was the case for his extended family which populate two of the Ezioko polling booths of 001 and 002. The former vice president, who was able to vote after having mounted a protest. He pointed to foul-play as the chief culprit responsible for the removal of his name and his family's name from the voter's register.
The voter disenfranchisement was widespread throughout the regions of Anambra State and posed a threat to the credibility of the said polls and the validity of Governor Peter Obi's victory. Although some of the gubernatorial candidates conceded defeat, it appeared insufficient and a mile too short for the angered voters who were denied the right to vote. Of which resulted in the likes of Emeka Anyaoku, an indigene of Obosi into decrying the level of disenfranchisement and cancellation of the 75,000 registered voters of Obosi and Nkpor.
To this, the INEC maintained its stance that the election was credible and relatively free and fair. As the Resident Electoral Officer [REC], Josiah Uwazuronye, in Awka noted to Ukpakareports.com, "I stand by the result declared. The winner met all the statutory and constitutional requirement as to spread and majority of lawful votes cast at the election." But aggrieved parties disagree with INEC's stance. Dr. Chris Ngige argues that INEC erred. He adds, "Section 179 [2] a, b, and [3] a, b, of 1999 constitution are clear – not written me."
Prominent State men in the likes of Chief Emeka Anyaoku and Dr. Alex Ekwueme have frowned at the polls of February 6, 2010. But the PDP appear to be holding on to gentility, instead. The National vice chairman of PDP for the south east [Olisa Metu] in talking to Ukpakareports.com stated "I stand by the earlier congratulations by our candidate, the PDP national and the acting President. There were obvious flaws by INEC but my concern is rebuilding party unity and discipline."
|
Article source