Tunisian Police Clash With Islamists Over Banned Rally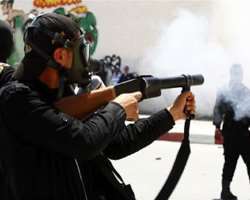 Supporters of a hardline Islamist group clashed with Tunisian police in two cities on Sunday after the government banned its annual rally and the regional arm of al Qaeda urged it to stand firm against the authorities.
Violence broke out in the central city of Kairouan, venue of the planned rally, and in a district of Tunis, where a Reuters witness said a number of people were injured.
The Ansar al-Sharia group is the most radical to emerge in Tunisia since secular dictator Zine al-Abidine Ben Ali was toppled in 2011, and poses a test to the authority of the moderate Islamist government.
In Kairouan, where tens of thousands of members of Ansar al-Sharia had been expected to attend the planned rally on Sunday, the group's supporters threw stones at police, who fired teargas in response.
Police also prevented the group, which openly supports al Qaeda, from holding a smaller religious meeting in the Ettadamen district of the capital Tunis. Clashes broke out with Islamists who chanted: "The rule of the tyrant should fall."
Police fired teargas and shots into the air to disperse some 500 stone-throwing protesters, some of whom set fire to cars, lowered the Tunisian flag and replaced it with a black al Qaeda banner.
Buses and the subway stopped working and shops in the neighborhood were closed, while military aircraft patrolled overhead. Clashes spread to two other areas of the capital.
Tunisia was the first country to stage an "Arab Spring" uprising, inspiring similar revolutions in Egypt and Libya. The new government is led by a moderate Islamist party, Ennahda, but hardline Islamist Salafists are seeking a broader role for religion, alarming a secular elite which fears this could undermine individual freedoms, women's rights and democracy.
"SECURITY THREAT"
The Interior Ministry said on Friday it had banned the gathering of Ansar al-Sharia, "which has shown disdain for state institutions, incited violence against them and poses a threat to public security".
Prime Minister Ali Larayedh said on Saturday the group was linked to terrorism. The same day, the regional arm of al Qaeda issued a statement urging Ansar al-Sharia to defy the government crackdown.
The U.S.-based SITE Intelligence Group, which monitors jihadist statements, said al Qaeda in the Islamic Maghreb encouraged the Tunisian Islamists to continue their "good steps" and beware of provocations by the government.
Ansar al-Sharia said police had arrested its spokesman Saifeddine Rais, but it was not clear where or when. A security source confirmed he had been detained.
The group's leader Saifallah Benahssine, also known as Abu Iyadh, is a former al Qaeda fighter in Afghanistan and is wanted by police for allegedly inciting an attack on the U.S. embassy in September. Four people were killed in those disturbances, which began as a protest over a film that mocked the Prophet Mohammad.
In a separate development in Kairouan on Sunday, the interior ministry said a woman had been arrested for placing a feminist banner on the wall of a mosque and trying to expose her breasts.
The activist, named Amina, had sparked controversy in recent months by publishing nude images on Facebook and writing on her chest: "My body belongs to me and not the honor of others".
REUTERS