Governors Welcome Emergency Rule in Borno, Yobe, Adamawa.. Meet May 28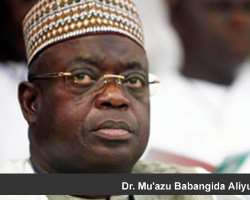 The Northern States Governors' Forum (NSGF) has expressed support for the emergency rule imposed on the Northern States of Borno, Yobe and Adamawa.
The forum believes the imposition of emergency rule will complement the offer of amnesty made to the members of Boko Haram sect to restore peace to the affected states.
Chairman of the forum and Governor of Niger State, Dr Mu'azu Babangida Aliyu in a statement on Friday urged all security agencies deployed to the affected to states to operate by their rules of engagement.
Dr Aliyu advised the military to respect the sanctity of human lives, especially civilians who are not involved in the crisis.
The statement signed by Governor Aliyu's Chief Press Secretary, Danladi Ndayebo called on people in the affected states to also cooperate with military personnel posted to their areas to avoid unnecessary loss of lives.
While commending President Goodluck Jonathan for taking the action, the forum appealed to members of the sect to accept government's gesture of amnesty so that lasting peace will return to the region and Nigeria in general.
The forum also commiserated with the families of those who lost their lives in an attack by gunmen in Daura, Katsina State on Thursday and advised citizens to remain vigilant and report any suspicious movement or persons to the police or other security agencies.
Meanwhile a regular meeting of the Northern States Governors Forum earlier scheduled to hold in Kaduna on Tuesday has been shifted to Tuesday, May 28, 2013 to allow governors of the affected states monitor the take off of the emergency rule in their domains.
Top on the agenda of the meeting is deliberation on the report of the Committee on Reconciliation, Healing and security submitted to the Governors in Abuja last month. The meeting will also discuss the proclamation of emergency rule on Borno, Yobe and Adamawa States by President Jonathan.