Maiduguri: House-To-House Search For Insurgents Underway As Total Curfew On Boko Haram Hideout Begins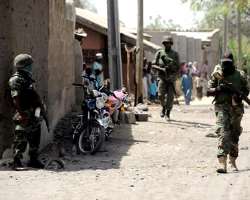 SAN FRANCISCO, May 18, (THEWILL) – The Nigerian military on Saturday appears set to begin the final onslaught against the Boko Haram insurgents in Borno State after grounding most of their camps located in the State in a massive raid over the past few days.
Already in Maiduguri, the state capital, a total curfew has been imposed on some parts of the town with effect from Saturday and the areas affected by the total curfew are believed to be the hideout of the insurgents. The latest development is also seen as preparatory to a house to house search to flush out the insurgents.

A statement issued by the spokesman of the Joint Task Force (JTF) in Borno State, Lt. Col. Sagir Musa, said it had become inevitable for the military to take the decision in order to sustain special operations in the face of recent Boko Haram attacks in some areas within Maiduguri metropolis.
According to Musa, "a 24-hour curfew is hereby imposed in the following wards and areas: Gamboru, Mairi Kuwait, Bakin Kogi, Kasuwan Shanu, Ruwan Zafi,202 Quarters, Dikwa Quarters, Low-Cost Sinimari, 505 Housing Estate, Chad Basin Area, 303 Housing Estate and Baga road areas with effect from Saturday, 18 May, 2013."
Although there has been a dusk to dawn curfew in most parts of the town, the extension of the curfew in some parts now has created apprehension among residents who do not know the bounds of the total curfew.
Many residents in some parts of the town who attempted coming out were turned back by the stern-looking soldiers.
It was also gathered that most of the out-campus students of University of Maiduguri (UNIMAID) have started moving into the campus to stay with their friends because of the 24-hour curfew.
A top military source disclosed that the recent total curfew in some parts of the town was as a result of the bomb explosion which rocked the town on Friday night.
Friday's bomb blast came two days after another explosion on Wednesday at the One Way area of the Monday International Market Maiduguri in which some residents were killed.